For a Limited Time:
RECEIVE A $500 CREDIT
PLUS Save 30% on 7+ Nights*
Take time out after the holidays and in the new year to experience the extraordinary.
With this limited time offer, gain exclusive savings and a $500 resort credit to craft a custom dream itinerary that blends pure indulgence with authentic experiences.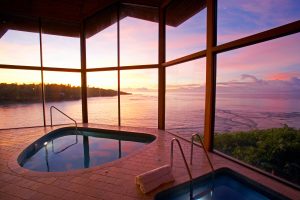 Indulge in Pure Luxury and Wellness
After the holidays, it's especially important to take time to rejuvenate and find inspiration for the new year ahead. Enhance your stay by using your resort credit to indulge in award-winning wellness inspired by the Fiji islands.
Try one of our many couples experiences, such as our signature Sunset Bliss treatment. Experience Fiji's world-renowned sunsets from a private ocean view room, where you'll enjoy champagne and hor' deouvres on a secluded balcony overlooking the sea. Enjoy a coconut milk foot soak followed by a 75 minute massage, ending just before sunset so that you and your partner can enjoy more champagne as the colors fill the sky.
Experience the Best Island Adventures
Try something new with credit towards a menu of island-inspired activities and excursions. Whether experienced or a novice, Dive Namale offers daily dives for certified divers and intro courses for beginners. Fiji, known as the "Soft Coral Capital of the World," offers world-class scuba diving locations such as the Namena Marine Reserve where you'll discover an enticing underwater world of tropical marine life and coral reef systems. 
Discover other ways to add adventure to your stay to suit your preferences. Enjoy a sunset cocktail cruise to take in the colorful sky over Savusavu Bay, or try our Sandbar Snorkel and Picnic, a luxury castaway-style adventure.
Must book between: September 1, 2017 - October 31, 2017
Valid for travel between: December 1, 2017 - March 31, 2018
Terms and Conditions: resort credit is listed in FJD. Cannot be combined with other offers. Minimum 7 night stay. Credit is non-transferable. Cannot be applied to existing bookings. Must be booked in advance - not available on property. Subject to availability and black out dates.