A WORLD-CLASS, LUXURY SCUBA DIVING RESORT
Fiji is home to some of the best scuba diving to be found anywhere in the world. Known for its diverse and expansive array of "Soft Corals",  it's reputation as a diver's paradise is second to none.
Whether you are a well-travelled Certified Diver looking to explore Fiji's sheer Walls and massive Sea Mounts or an adventurous novice wanting to explore the colorful and vibrant shallow reefs. You will marvel at the vast variety of coral and marine life that Fiji has to offer. That is especially true of the diving available to us just a short boat ride away. The Namale Resort's location situated on the southern shoreline of Vanua Levu gives Dive Namale easy access to extraordinary diving opportunities.
As a PADI 5 Star Resort Facility, Namale Resort & Spa offers a truly world class experience both above and below the water. Combining thrilling dives at world-class sites like the Namena Marine Reserve, Purple Gardens Mount,  and Lepper's Wall (just to name a few) with the five-star accommodations, dining, and spa that define the Namale experience, we are taking Fiji Scuba Diving experience to the next level. You will experience the best of Fiji's diving combined with an ultra-all-inclusive vacation you will never forget.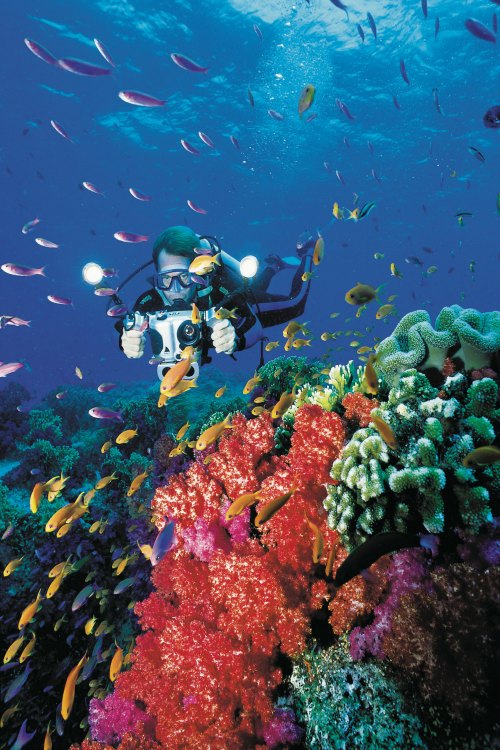 CERTIFIED SCUBA DIVERS
Namale offers a variety of affordable single day and multi-day diving opportunities for certified scuba divers staying at our resort.  An excellent add-on to our ultra-all-inclusive accommodations package. Experienced divers can take full advantage of our luxury scuba diving resort's prime location on the southern shoreline on the island of Vanua Levu. Our knowledgeable and experienced dive staff can assist you with arranging some exciting diving throughout your stay. Venture out in the morning with our experienced dive team, then return to your private luxury quarters to enjoy a five-star meal, relax at our award-winning spa, or participate in one of the many other activities that Namale has to offer.
SEE PRICING AND DETAILS
Pre-Paid Scuba Diving Packages
Dive Namale offers Pre-Paid Single Day Diving Experiences as well as Multi-Day Dive Packages to guests of Namale. For those who are Certified SCUBA Divers, you have a couple of options for diving.
You can book one of our Multi-Day Dive Packages that offer a 2-tank dive for 2,3,4,5, or 6 days of diving. The packages include SCUBA cylinder and weights. The rest of the required gear is available for rent or, as many divers prefer, you can bring your own personal dive gear. Multi-Day Dive Packages are based on a 2-tank boat dive per day and must be purchased in advance as an add-on to any Namale Resort & Spa accommodation package. Dive packages are "per-person" and may not be shared.
For those who are certified but take a more casual approach to diving on vacation you can pre-arrange  a 2-Tank Dive to use on one of the days of your Namale stay. These stand-alone 2-tank dives  are packaged with all of your gear included.
Pricing for pre-paid dives and dive packages are in USD and tax inclusive:
Single Day 2-Tank Dive – all equipment included – $188.00
Multi-Day Dive Packages – includes SCUBA Cylinders & Weights – other gear available for rent

2 Day / 4 Dive Package – $289.00  requires 3-night minimum stay
3 Day / 6 Dive Package – $350.00  requires 4-night minimum stay
4 Day / 8 Dive Package – $430.00   requires 5-night minimum stay
5 Day / 10 Dive Package – $539.00  requires 6-night minimum stay
6 Day / 12 Dive Package – $649.00  requires 8-night minimum stay
7 Day / 14 Dive Package – $749.00  requires 8-night minimum stay
 Rental Gear
Regulator with Depth/Pressure Combo Gauge & Alternate Air Source – $15.00/Day
Buoyancy Compensator Jacket with Integrated Weights – $15.00/ Day
Wet Suit – $15.00 / Day
Full Rental Package – $39.00 / Day (Reg, BC, & Wetsuit)
Dive Computer – $20.00/Day
Enriched Air Nitrox Diving
Divers who are EANx Certified may opt to dive with Nitrox 32% . Additional charges apply in the form of a surcharge to the above dive package prices. $29.00/2 Tank Dive USD tax incl.
Those not yet trained and certified in Nitrox Diving may enroll in Dive Namale' Enriched Air Nitrox Certification Course via PADI. Contact DiveNamale@NamaleResort.com for more details and information.
Advanced Reservations are highly recommended for all SCUBA Diving activities at Namale. Multi-Day Dive Packages are not available as an On-Site purchase. Should you have any questions or need additional info please email DiveNamale@NamaleResort.com
All divers must be in possession of a valid SCUBA Certification Card issued by an internationally recognized SCUBA Training Agency (PADI, NAUI, SSI, YMCA, CMAS, BSAC etc.). All SCUBA Divers are required to dive with BC, Regulator with Alternate Air Source, Depth Gauge and Underwater Timing Device. All Divers are required to fill out and sign a Diver Waiver and Liability Release prior to participating in any dive related activity.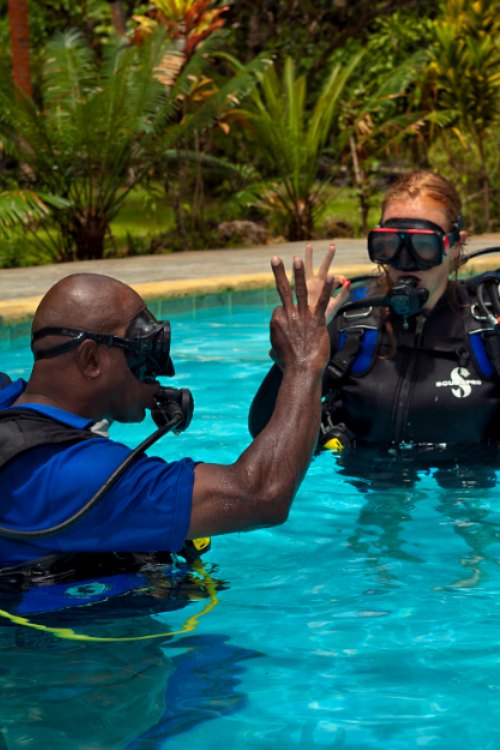 LEARN TO DIVE
All our guests can take advantage of the amazing underwater world we have here in Fiji. Whether you want to try scuba diving for the first time or become a fully certified scuba diver, the professional and experienced staff at Dive Namale has a program designed specifically for you. Our Intro to Scuba Lesson & Dive program covers all the core skills you will need to be diving gorgeous shallow reefs with your instructor in no time. If you have completed the classroom and confined water (pool) portions of your SCUBA Certification program, you can complete your SCUBA certification with our Openwater Referral Program. Complete your SCUBA training and jump-start your life-long adventure into underwater exploration.
SCUBA TRAINING PROGRAMS
Introductory SCUBA Lesson & Dive – $199.00 USD tax inclusive
Here is a wonderful opportunity for you, if you are not (yet) a certified SCUBA diver, to take the fast track. See for yourself, firsthand, what Fiji's breathtaking underwater world has to offer. Dive Namale's Introductory SCUBA Lesson & Dive requires no previous experience and is available to all Namale guests. Those under the of age 18 require parent's permission.
The adventure begins with you learning about the equipment you will be using on your dive with your instructor. You will become familiar with each piece of gear, understand what it does, and exactly how you will be using it.
The next step has you and you instructor in the pool as you learn the core skills required for SCUBA Diving. You will also practice those skills until both you and your instructor are sure that you are ready for your open water reef dive. The combined Poolside & In-Pool instruction usually takes about 90 minutes.
Once you have completed your pool lesson, it is now time for you and your instructor to head out for your reef dive! Introductory SCUBA dives are conducted on some of the best shallow reef dives in and around the Namale area. After your instructor teaches you about safe boat diving procedures you are ready to go! Your instructor will guide you on a tour of one of Namale's top shallow dive sites. If you enjoy that first dive and want to continue diving, you absolutely can. You can do additional guided dives with your instructor on progressively deeper dives up to a maximum depth of 60 ft (20 meters) if you wish.
Additional Introductory Reef Dives – $139.00 USD tax inclusive includes all equipment, and one (1) reef dive with your instructor.
Openwater Qualifying & Training Dives
Completing your SCUBA Certification with your Open Water Qualifying Dives (aka "Checkout Dives") is easy to do here at Dive Namale. Over the years, our instructors have completed the training for hundreds of divers who began their SCUBA training at their hometown SCUBA Shop, YMCA, College, or Community Center. Open Water Training is fun, safe, and easy, and makes for the start of a great SCUBA diving getaway or vacation.
Open Water Training generally consists of 4 open water instructional dives done with one of our instructors. The 4 dives are done over 2 diving days. In addition to reviewing all that you have already done in your pool training, your instructor will teach you everything you need to know to safely dive in a tropical boat diving environment. Training ratios are never more than 4 divers to 1 instructor, and, in many cases the ratio is 1 to 1.
The cost for the diving, equipment rental, and training is $649.00 USD tax Inclusive
Dive students must also bring with them their Referral Letter/Form from their initial instructor, a copy of their Medical Form, as well as their Logbook.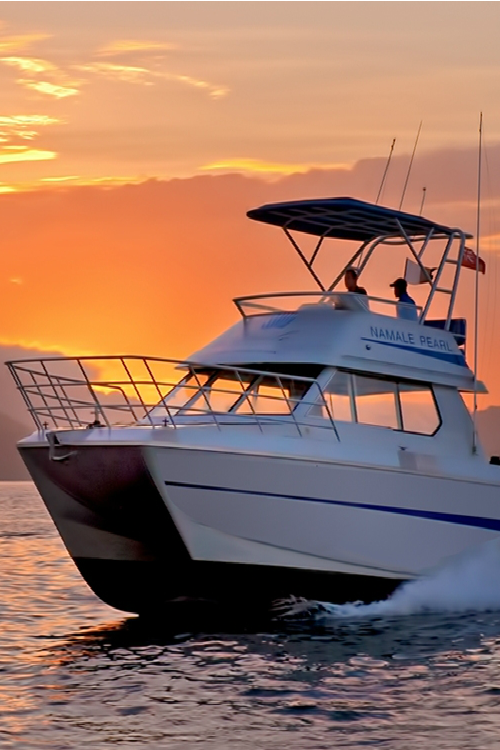 OUR FACILITIES & TEAM
Namale's dive team brings years of professional experience organizing and supervising exciting scuba trips for our guests. Our Namale Dive, Watersports, & Activity Center offers our guests a professional, comfortable environment from which to embark on their scuba diving sessions and houses all our top shelf scuba and rental gear. Namale's custom built dive vessel, The Namale Pearl, is docked just steps away from the Center in our own private, protected cove. The fantastic freshwater pool overlooking the bayfront offers guests a place to relax after dives, and also serves as the setting for our fiji scuba diving training programs.
EXPLORE FIJI'S UNDERWATER WORLD