FIJI ISLAND TOURS
At Namale Resort & Spa, we're more than just a relaxing oasis with pretty views. Our resort is located on the incredible island of Vanua Levu and the town of Savusavu, known as "Fiji's best-kept secret," featuring excitement around every corner.
We invite you to experience all our amazing island has to offer, from thrilling adventures to educational activities. On our Fiji tours, you can tour farms, float down rivers, and even dip below the surface and explore the incredible underwater world. Embark on a Fiji excursion that takes you to a deserted sandbar oasis or to the depths of the Namena Marine Reserve. Whatever excursion you choose, you're in for an unforgettable adventure that will remain with you forever.
When you stay at our luxury boutique resort, once-in-a-lifetime experiences are at your fingertips. You can interact with nature and wildlife, admire extraordinary sunsets, indulge in culinary experiences, and embrace Fijian culture. Spend the day on our Fiji island tours, and then retreat to your tropical oasis, where you can lounge by the pool, relax at our award-winning spa, attend cultural performances, and so much more.
Where will your Fiji island tours take you? Find out today when you book your island excursions with us!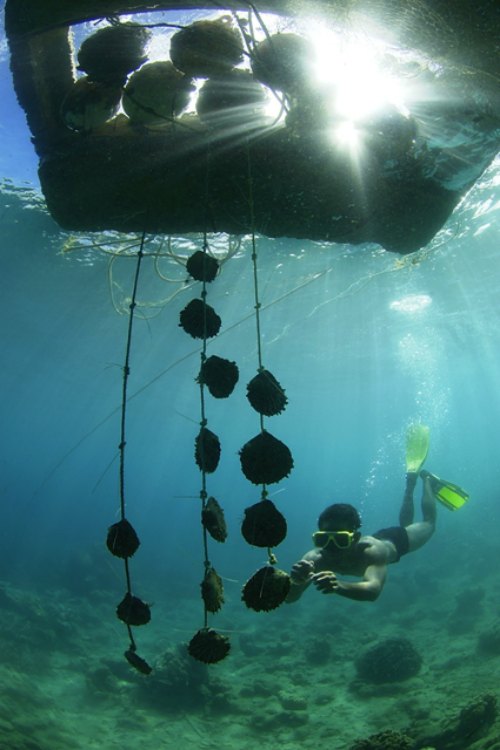 PEARL FARM TOUR
Did you know Fiji is home to some of the world's rarest saltwater pearls? These incredible pearls are cultivated and harvested right near Namale in Savusavu Bay. The rarity and unique hues of Fiji pearls are due to their special host, the Fijian Pearl Oyster, and the mineral makeup of Fiji's waters. Take an educational and fun tour of local operator J. Hunter Pearls and snorkel above the underwater farm, featuring the oysters suspended on a rope beneath the surface. Then learn about the cultivation process and view the showroom full of champagne, gold, copper, brown, and pistachio-colored pearls for sale. This is one Fiji island day trip that belongs at the top of your list.
$50 FJD per person. Paid directly to the operators.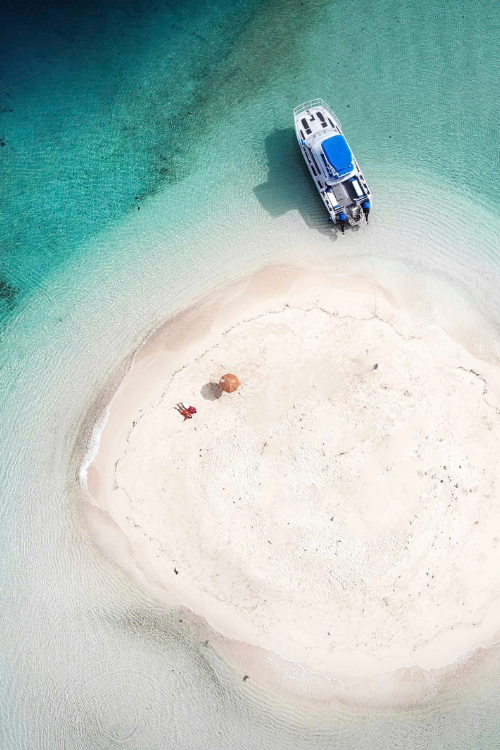 When it comes to our amazing island excursions, this is one you won't want to miss. This sun-filled outing takes you on a group outing to a deserted sandbar in the middle of the sea for a unique luxury castaway experience! Start off this half-day tour on a 15-minute boat ride from town, taking in stellar views of Savusavu Bay and the surrounding coast along the way. When you arrive at the gorgeous sandbar oasis, you'll disembark into the crystal clear turquoise waters and enjoy incredible snorkeling, swimming, and lounging under beach umbrellas on the sand. Sip champagne or a cold Fiji Gold, enjoy a gourmet picnic lunch, and spend your beach time as you please. You can even learn to husk coconuts by hand with our fun activities staff! This Fiji island tour is the perfect way to add a white-sand beach experience to your Vanua Levu itinerary.
$99 FJD | $50 USD | $65 AUD per person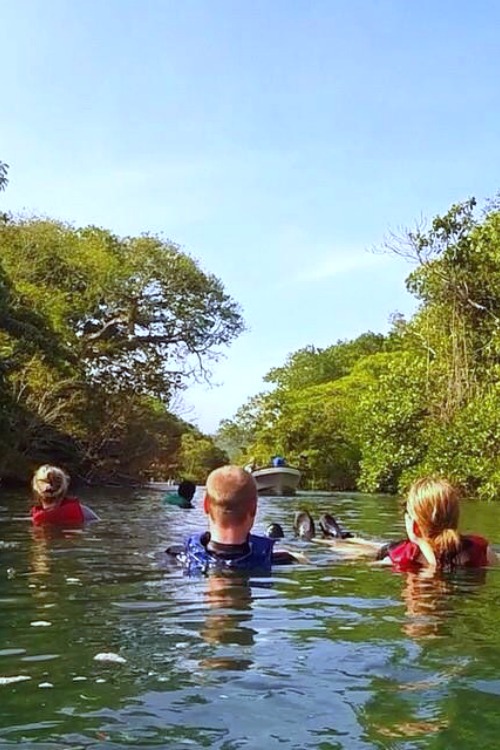 SALT RIVER DRIFT
Looking for an adventure that's second to none? Embark on our Salt River Drift excursion! Vanua Levu is home to a natural phenomenon: the Salt River and Salt Lake. Fed by the surrounding ocean, the saltwater river changes direction with the tides and ends in a large, virtually untouched salt lake. This unique adventure takes you on a relaxing, fun float through lush mangroves and rolling green hills. When the tide flows toward the lake, don a lifejacket, hop in the buoyant salt water, and gently float along as our guides serve you ice-cold beverages from the boat. You'll love gliding through the refreshing water as you soak in the surrounding lush jungle scenery. This one-of-a-kind excursion is a guest favorite and a must-do adventure!
$99 FJD | $50 USD | $65 AUD per person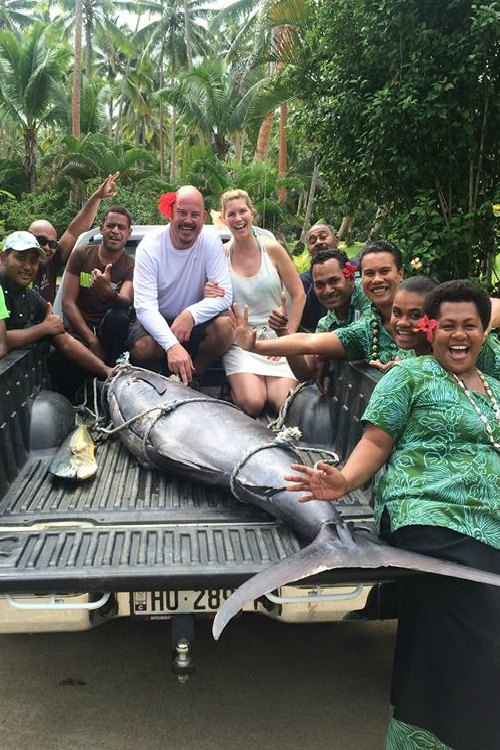 GAME FISHING
If fishing is one of your favorite past times, then don't miss out on the opportunity to cast a line in Fiji. Namale works with trusted local operators to offer exciting game fishing in Vanua Levu's surrounding waters. Take advantage of this half-day charter for the chance to reel in large tropical game (or even sharks!) with the professional equipment and guidance of experienced operators. Game fishing tours are easy to arrange through our activities staff, who will handle all the details and transportation for you, so you can focus on the thrill of the catch. Our kitchen staff will even prepare your prize catch to your liking as soon as you return to Namale for perhaps the best-tasting meal of your trip. Ready to get hooked on this incredible Fiji tour? Book with us today!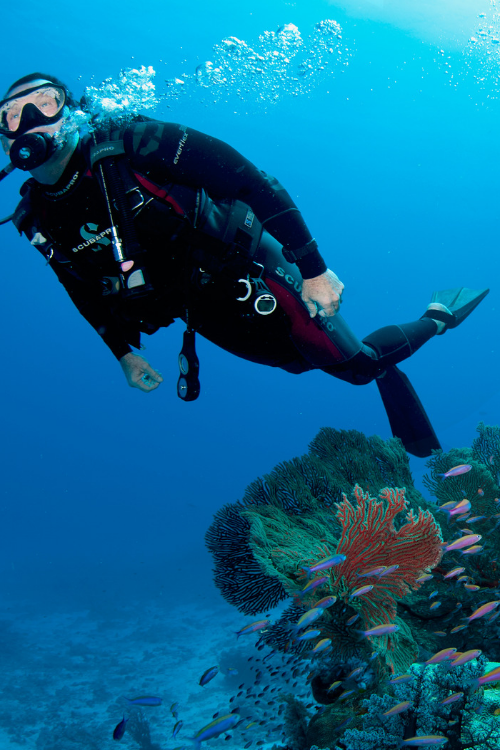 NAMENA MARINE RESERVE
Scuba dive at one of the world's most renowned coral reefs with Dive Namale, the resort's 5 Star PADI certified facility and skilled dive team with over 30 years of experience. Surrounding the tiny island of Namenalala, the approximately 70 square kilometer Namena Marine Reserve is known for its remarkable marine biodiversity and an incredible variety of fish and coral. What's more, the island's beaches are a significant nesting site for endangered sea turtles. Get up close and personal with the island's wildlife on this full-day island excursion.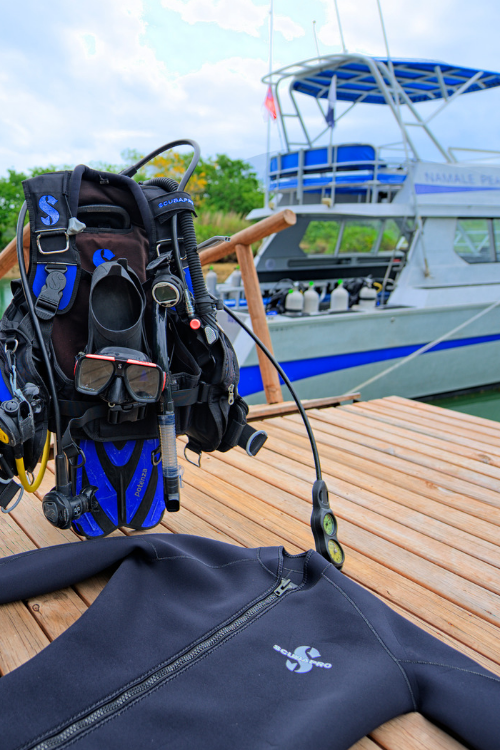 LEARN TO SCUBA DIVE
It's time for some underwater exploration! Namale caters to both novice and experienced certified divers so that any adventurous soul can experience Fiji's brilliant underwater seascape. Check "learning to scuba dive in Fiji" off your bucket list with Dive Namale's scuba training programs featuring Intro to Scuba, Open Water Qualifying and Training Dives, and PADI e-Learning and Full Certification. The popular Intro to Scuba course features 1-on-1 training to learn scuba equipment and core skills in a pool training session, followed by a supervised dive at some of the best shallow dive sights in Fiji. See Scuba Training Programs pricing and details here.