INDULGE AT OUR AWARD-WINNING LUXURY SPA IN FIJI
At Namale Resort & Spa, Fiji, we invite you to indulge in your most relaxing getaway yet. Nestled into volcanic cliffs overlooking the Koro Sea, Namale's Valeni Sasauni Spa Sanctuary is a leading luxury spa in Fiji. Offering a wide range of indulgent treatments inspired by ancient healing traditions, our luxury spa resort puts your health and wellness first. Indulge in pure relaxation and rejuvenation during your tropical getaway as you discover our spa secrets that incorporate natural, healing elements from the island. Experience the medicinal powers of the sacred dilo nut, the restorative nature of noni, the healing benefits of cocoa, and so much more.
Spanning 10,000 square feet, our expansive Fiji spa features ocean-view treatment rooms where you can enjoy a gentle sea breeze and the sound of the waves during your massage. At Valeni Sasauni, we also offer private rooms with lush garden views, where traditional Fijian Bobo massage is performed. Our luxury spa in Fiji promises a calm and peaceful escape where you can tap into some much-deserved relaxation.
Our spa in Fiji spoils you with the most blissful experiences, from traditional massages and facials to body wraps and manicures. In addition to our wonderful collection of treatments and therapies, we welcome you to indulge in our large hydrotherapy room featuring our Fiji spa hot tub, aromatherapy pools, waterfall massage, cold plunge, and a sauna. Soak up our incredible ocean views through floor-to-ceiling windows while relaxing after a long day of enjoyment.
Our all-inclusive, adults-only Fiji spa delivers the ultimate getaway where you can unwind and recharge in your own tropical paradise. Whether you're here celebrating your wedding or escaping from the hustle and bustle of everyday life, our luxury spa resort will ensure your vacation is everything you dreamed of and more.
In addition to offering the finest massage experiences, our Fiji spa also features a wide range of body wraps, masks, facials, manicures, pedicures, and even balancing treatments to help you achieve a feeling of supreme blissfulness. You'll feel the ultimate relaxation between our invigorating Nuku back rub and calming chakra therapies.
Take a look at our Namale spa menu to find out more about our amazing services.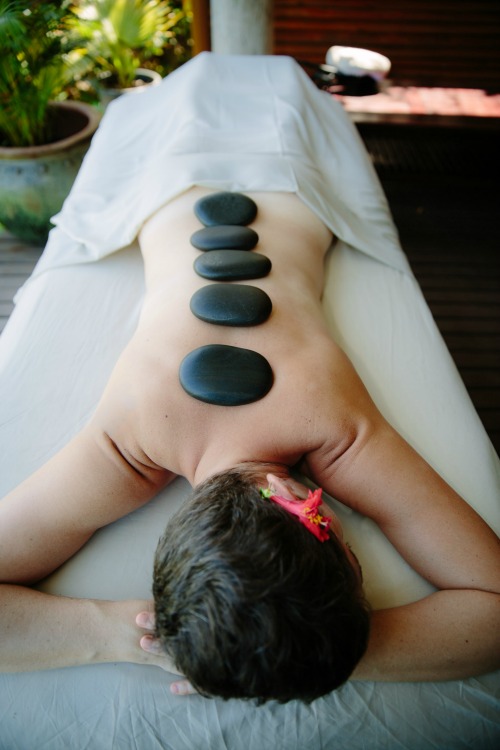 SIGNATURE MASSAGE
At Valeni Sasaun, our massage team combines the talents of our Fijian hosts whose intent and experience bring together the healing histories of Fiji, India, Japan, Sweden, Thailand, Bali, and Native American cultures. Enjoy a wide range of massage treatments varying in length, style, and focus from your choice of our private, relaxing garden and ocean-view rooms. Indulge in a nourishing Swedish massage, treat yourself to a Fijian massage in the traditional bobo style, or choose the combination option complete with hot stones. Our staff is focused on helping you holistically reinvigorate your total mind, body, and spirit during your stay.
Fijian Spa & Massage Specialties
True Swedish:
This Fiji massage focuses on gently removing toxins from your body, as it stimulates circulation and lymph flow, decreases blood pressure, and calms your mind, body, and spirit.
Fijian Bobo:
During this traditional massage at our Fiji spa, therapists use their feet to perform this ancient massage technique using ceiling bars and massage tables placed on the floor to offer you the most blissful experience.
Total Release:
This deep-tissue massage, tailored to your preferred pressure, will have you leaving our Fiji spa feeling like a brand new you.
Ultimate Fusion Massage:
This indulgent Fiji massage combines deep-tissue and Swedish massage techniques with hot stones to help melt your stress and tension away.
Heaven and Earth Tension Tamer:
A favorite at our spa in Fiji, this treatment incorporates hot stones and reflexology techniques to help you reach ultimate relaxation.
Swedana Steam Therapy:
Combining three elements, this treatment begins with a gentle body scrub, followed by a warm oil aromatherapy massage, and topped off with a full body steam to have your body looking and feeling its finest.
Abhyanga Massage:
Rejuvenate your mind and body with this warm oil massage, which stimulates arterial and lymphatic circulation using special flows and ayurvedic oil.
Namale Couples:
We believe those who relax together stay together. Our couples massage experience invites you and your partner to share a treatment room and enjoy one of our seven signature massages. Please note this experience does not include tandem massages.
Sunset Bliss:
Treat you and your partner to our extravagant sunset massage experience, which begins with a champagne toast and foot soak on a private balcony overlooking the Koro Sea, followed by your choice of our Signature massages, and concludes with a bottle of champagne and hors d'oeuvres on your private deck as the sun slips below the horizon.
The Ultimate Indulgence:
This inviting treatment is sure to get you in the vacation state of mind as it features a coconut milk bath foot soak and one of our signature massage specialties in a room thoughtfully decorated with candles and flowers.
Namale Tandem Massage:
With this option at our luxury spa in Fiji, you can add a second therapist to your experience to further enhance your journey toward rest, relaxation, and rejuvenation.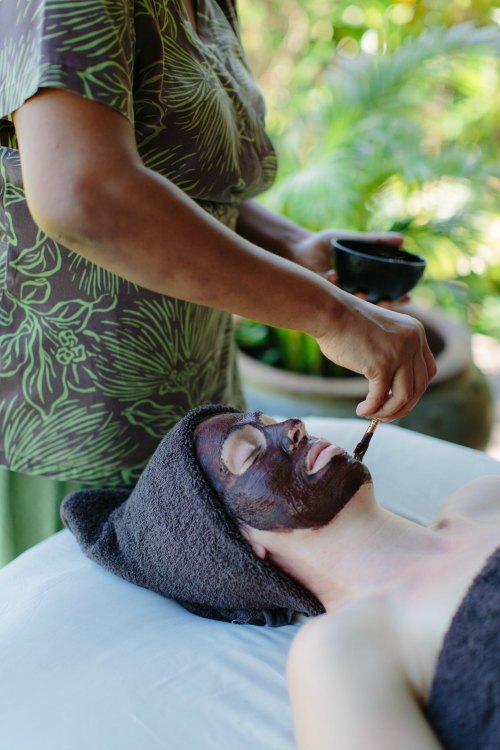 BODY & WELLNESS THERAPIES
Our Fiji spa invites you to experience decadent and revitalizing body treatments and wellness therapies, from our exotic Fire Balancing Treatment of aloe and mint body scrub and banana leaf wrap to our Chakra Balancing Hot and Cold Stone Therapy, which combines energy and massage to help you find your center. Each 90- or 120-minute treatment is a healing, relaxing experience that incorporates local, natural products, from Fiji organic coconut oils to herbs and banana leaves cultivated from Namale's very own farm. For added luxury and relaxation, enjoy our rich skin care treatments, including facials, exfoliating scrubs, and moisturizing wraps.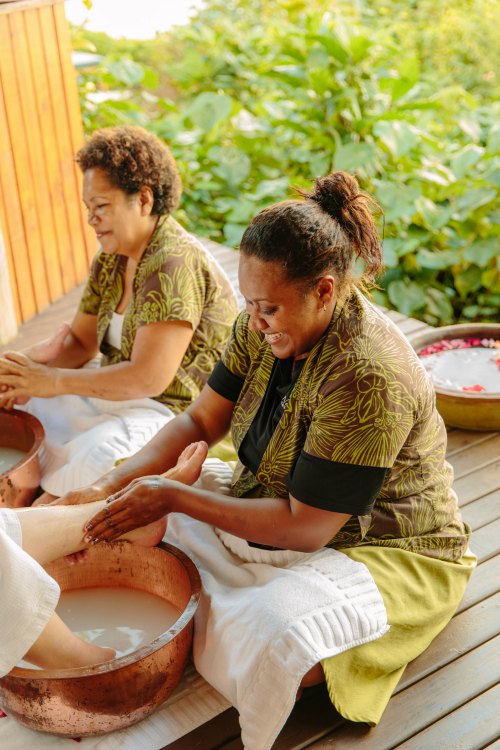 MANICURES & PEDICURES
At our luxury spa in Fiji, we encourage you to pamper yourself with our manicure and pedicure treatments, designed to tidy up your nails and rejuvenate your skin. Relish accents of cucumber and citrus for a tropical touch to your experience and exfoliating scrubs made from local pure sugar cane, sea salt, coconut, and olive oils. To further indulge in the experience, enjoy your session from our ocean view spa decks, featuring stunning vistas of the Koro Sea and a soundtrack of the gently rolling waves and our ocean blowhole spouting off.
Spa Lovers' Package
Booking a romantic getaway for two? Here at Namale Resort & Spa, our exclusive Spa Lovers' Package offers double the relaxation. We invite you and your partner to indulge in our Sunset Bliss spa experience and couples' massage at Valeni Sasauni when you book your spa and accommodation bundle in advance. This special offer is designed with couples in mind, as it's ideal for those celebrating their lasting love, whether you're honeymooning or ringing in a special anniversary. Take advantage of our Spa Lovers' Package today, and earn over $130 in savings.

Designed to be a space of sanctuary, healing, and rejuvenation, our luxury spa resort will instantly put you at ease. All your stress and troubles will melt away as you enter our tropical retreat featuring high ceilings outfitted with traditional Fijian design and private relaxation rooms that open out to the sounds and views of the ocean or tropical gardens. As one of the best spas in Fiji, we are committed to ensuring your spa experience awakens your mind, body, and spirit. At Valeni Sasaun, we focus on our connection with the natural world and set the stage for the perfect space for you to focus on self-care and total wellness during your getaway.