Celebrate Your Special Occasion on Island Time
Fiji is a tropical paradise, making it one of the most romantic places on earth and the perfect destination for celebrating life's important milestones and special occasions.
Namale Resort and Spa delivers the ideal setting for your special occasion getaway, from your honeymoon celebrations to your anniversary festivities.
We're delighted to be part of your celebration. Let our dedicated staff help you create the trip of a lifetime. We'll handle all of the special touches, such as romantic candlelit dine-outs in beautiful outdoor locations and chilled champagne served directly to your room. We can even arrange island excursions and relaxing spa treatments to ensure this is an unforgettable vacation for you and your loved one.
However you want to celebrate your special occasion on island time, we're here to make it the most magical celebration. Check our special occasion packages to find the ideal one for you.
DESTINATION WEDDINGS
Fiji's stunning beauty makes it an idyllic location for every type of destination wedding, and we pride ourselves on turning your dream wedding into a reality. Our Fiji wedding packages are designed with luxury and exclusivity in mind, and our dedicated wedding concierge is here to make planning simple. Say "I do" on our private beach with your toes in the sand, or exchange vows on our deck overlooking the Koro Sea. Wherever you choose to get married at our resort, we promise it will be even more enchanting and romantic than you imagined!
FIJI HONEYMOONS
If there is ever a special occasion event worth celebrating, it's your honeymoon. We specialize in romantic moments for newlyweds, helping to get your matrimony off to a beautiful start. Be it an idyllic breakfast at our waterfall, a romantic stroll along our tidepools, or a private dinner in our candlelit sea cave, you and your loved one will enjoy seclusion, luxury, and pure bliss for a thrilling start to married life. From our romantic heart-shaped hot tub to our private waterfall oasis, this milestone trip will certainly be one you will treasure for years to come.
ADULTS-ONLY GETAWAYS
You don't need an excuse to vacation in Fiji! It's time to indulge in a romantic getaway just because or to mark an important milestone like an anniversary with the romantic trip of a lifetime. Leave the kids at home and revel in a blissful retreat. We'll have you feeling well-rested and rejuvenated as we pamper you with all the finest amenities, from decadent five-star cuisine and exquisite spa services to luxurious accommodations and exclusive activities. Spend your days lounging in our serene pool areas and enjoying cocktails with stunning views of the sea, and you may never want to return home!
ANNIVERSARY GETAWAYS
Your wedding anniversary is the perfect excuse for a milestone trip to Fiji. Celebrate your love and toast many more happy years together. During your special occasion getaway at our resort, you and your loved one will enjoy dining on gourmet cuisine, relaxing poolside, hiking to our hidden waterfall, spending time on your private patio, and much more. If you imagine a romantic retreat filled with exciting island adventures and pampering treatments at our world-class spa, allow us to help make this an anniversary for the books.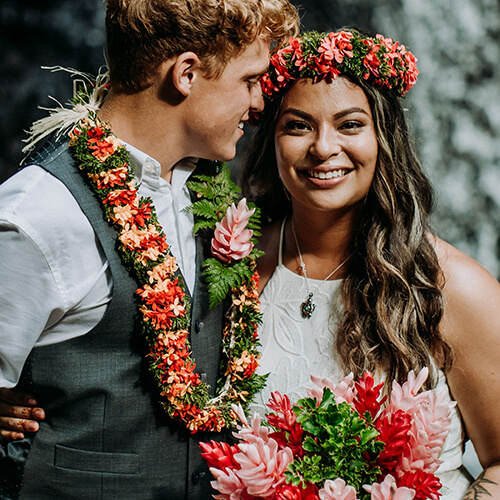 Special occasions deserve a celebration. Whether your idea of celebrating means popping champagne with a breathtaking view of the Koro Sea or relishing a private dinner for two in our tropical paradise, we're here to pull out all the stops for you. Ready to get this party started? Explore our incredible vacation packages, and contact us today for a personalized quote.