Everything is better on island time, and that even includes your meals.
Here at Namale Resort & Spa, it's our mission to ensure you indulge in the finest, five-star Fiji cuisine inspired by the rich flavors and traditions of the islands. Our luxury dining is second to none, as every meal is an opportunity for you to experience our exquisite, farm-to-table fare, crafted with the freshest ingredients sourced from our very own organic farm and local seafood markets. Serving daily rotating full-service breakfasts, curated lunches, and multi course dinners, our world-class culinary staff puts a spin on traditional Fijian cuisine, creating divine infusions of delicious proportions.
When you stay at our all-inclusive resort, five-star dining is at your service. Enjoy out-of-this-world meals wherever you'd like. You can choose to dine in our two gorgeous open-air Fiji restaurants with jaw-dropping ocean views, in the privacy of your own bure, or at romantic locations throughout the resort, such as next to a waterfall or in a candlelit sea cave on the beach.
At our resort, all-inclusive dining means all meals and snacks are included in your stay, as well as all beverages and alcohol, from fresh fruit juices and Fiji water to premium liquor, beer, wine, and spirits. Treat your tastebuds to the unique flavors of Fiji cuisine and the same high standard of quality Namale dedicates to every aspect of your stay.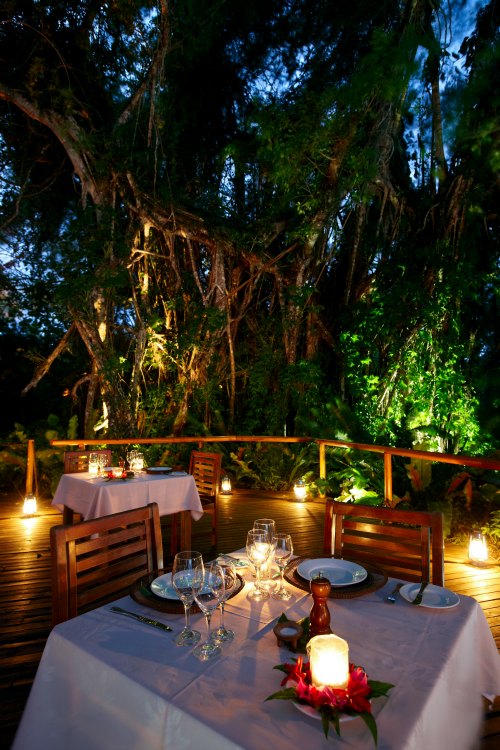 Luxury Dining Steeped in Tradition
Easily one of the best restaurants in Fiji, Main Bure restaurant features a large indoor dining room and bar, serving as host to our daily dinners, cocktail hours, and cultural entertainment nights. The sound of the lali drum, a traditional-style drum signaling significant and community events in Fijian culture, lets you know the start of dinner service. Enjoy your meal in the main dining room or alfresco on one of the many split-level decks nestled into the cliffs with stunning views.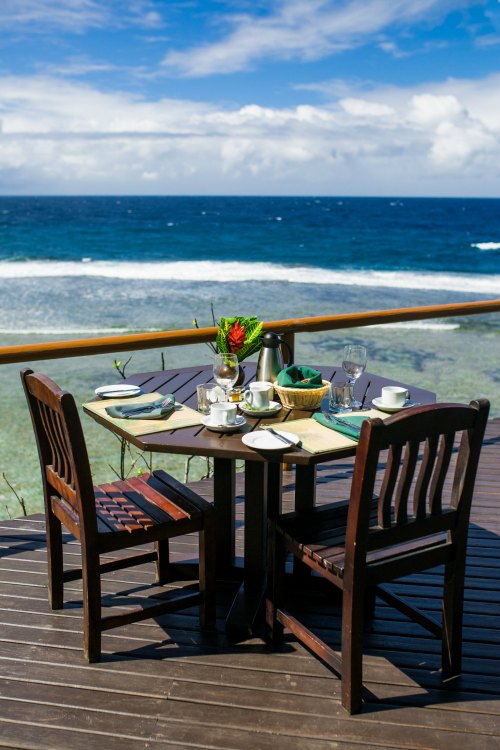 Casual Dining
Looking for a quick bite to eat between enjoying activities, lounging by the pool, or heading to the spa? Walu Restaurant, located on the east end of Namale's grounds, focuses on casual fare for those on the move. Order a delicious meal in our spacious, covered dining room or on the Walu Deck with stunning ocean views, and be sure to join us when the restaurant hosts entertainment.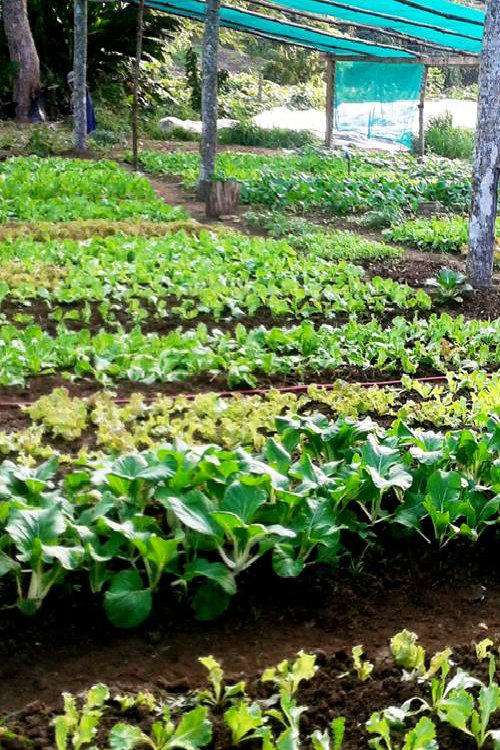 Farm Fresh Fare
Our Fiji restaurants serve Indo-Fijian cuisine made with fresh produce, herbs, and vegetables straight from our own organic farm. Our talented chefs select the freshest and most quality bounty, incorporating our harvests in everything from main dishes to salads and hors d'oeuvres. Not only does farming allow us to provide an elevated level of dining options for our guests, but it also contributes to a more sustainable and environmentally-friendly Fiji.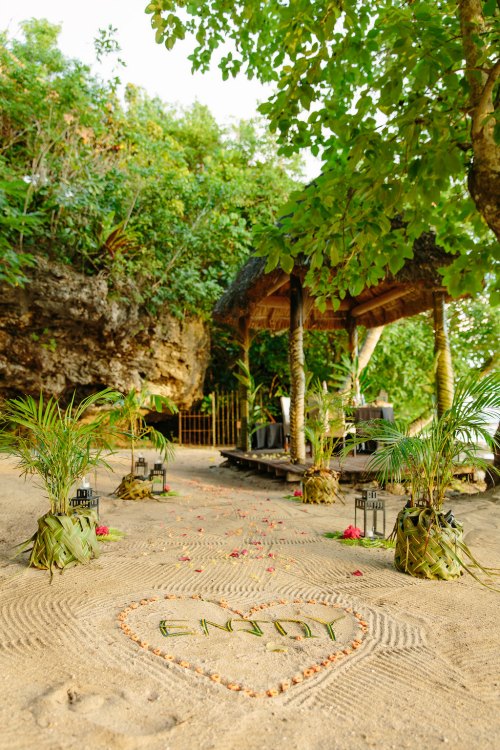 Destination Dining
At our adults-only resort, you don't always have to dine with the same views. We invite you to enjoy private dining in special locations around our resort, such as inside a seaside cave, next to our private waterfall, on a hilltop bluff with stunning vistas, right on the beach with your toes in the sand, or on our Veidomoni Deck featuring a romantic heart-shaped hot tub and amazing ocean views. Enjoy a special breakfast or lunch at a unique location (stays of 4+ nights) or for longer stays, guests can experience a private dine out dinner at a romantic location around the resort (stays of 7+ nights). Celebrating something monumental like an anniversary or honeymoon? Let us arrange a special meal to celebrate your love at an entirely secret location—an exciting surprise to add to your Namale experience!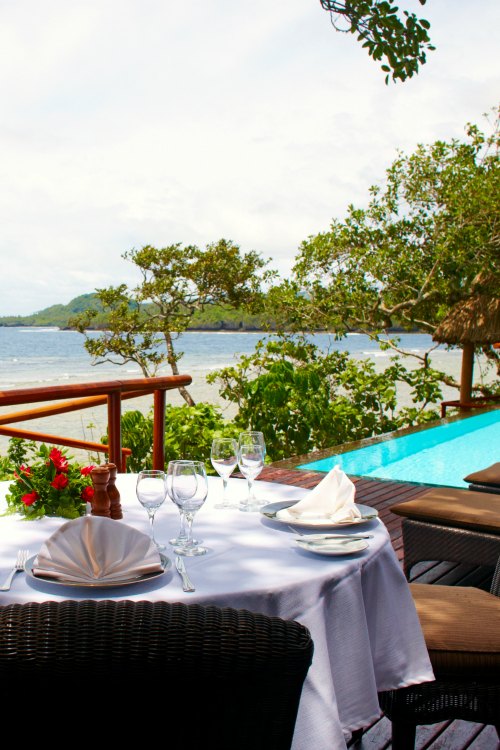 Luxury Dining on Your Terms
A large part of the Namale dining experience focuses on providing you with theultimate flexibility and freedom of choice throughout your stay. With a 4-to-1 staff-to-guest ratio, we're well equipped to provide you top service when it comes toserving your meals, snacks, and beverages. Whether you want our fine Fiji cuisinedelivered to your bure, poolside, or even Kava Bowl, we come to you. We encourage you to design your menus or special requests in advance or give our staff a quick ring to let us know your preferences. Allow us to set up a white tablecloth dinner on your private deck for nights you feel like staying in or request a pre-dinner cocktail right to your bure. Unlimited in-bure dining and room service are included throughout your stay.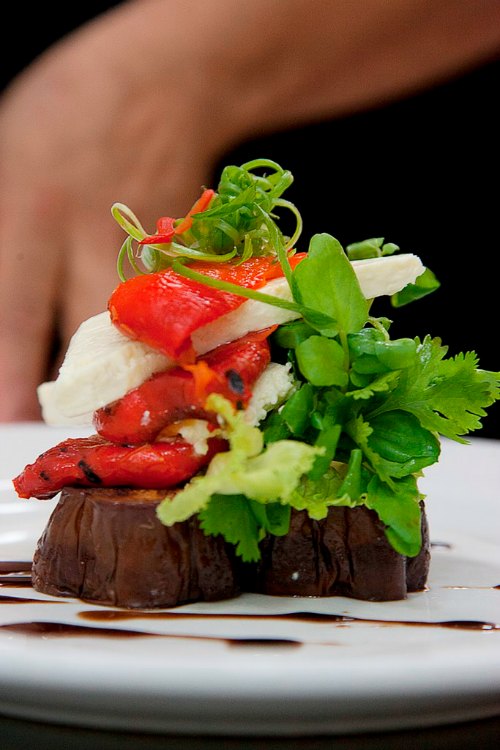 Cuisine Crafted for You
Our Fiji restaurants are committed to accommodating all types of dietary preferences, whether you are vegetarian, vegan, or gluten-free, have certain allergies, or simply prefer certain flavors and ingredients. We pride ourselves on tailoring your meals to your tastes throughout your entire stay. Our expert team ofculinary staff will work with you on customizing any or all meals while ensuring yourspecial requests won't sacrifice taste or elegance. Our goal is to provide you withimpeccable service and world-class all-inclusive dining options to enhance your experience while staying with us. Enjoy rotating menus with an array of options designed by our executive consulting chef, or craft a special carte du jour to your liking. If you have special requests, simply let us know in advance so we can have everything prepared upon your arrival.
Our Fiji restaurants offer more than just food—they design expertly crafted masterpieces with the finest, freshest ingredients from the island. Ranging from delectable, fresh-caught seafood, including giant lobster and mud crab, to creatively prepared and tender lamb and chicken, Namale's main courses will take you on a culinary journey through the islands. Accentuated by fresh, crisp local vegetables and bright citrus flavors, our decadent meals elevate the experience of fine dining in Fiji. With a rotating menu designed by a Los Angeles-based executive chef who's cooked for top restaurants and celebrities, Namale's dining options set a new standard for excellence in all of Fiji.
Whether you're enjoying a romantic getaway with your partner or a girls' trip with your best friends, your taste buds are in for a treat when you reserve your stay at Namale Resort & Spa. Arrange your vacation today to experience luxury dining our way.