BRIDES magazine recently announced its 2016 Best Honeymoon Awards, highlighting Fiji as a dream destination for couples looking for the ultimate in romantic getaways. We're proud to be recognized in the awards as a top honeymoon resort in the South Pacific, so in honor of the distinction we've have put together a list of the top 5 reasons why Fiji has everything newlyweds are looking for in a once-in-a-lifetime honeymoon!
Fiji is one of the few destinations around the globe that remains under-the-radar. Made up of 333 islands nestled into the brilliant blue waters of the South Pacific, the tiny island nation is host to not only some of the most breathtaking natural beauty in the world, but also a friendly and unique culture that welcomes travelers with open arms and an infectious and laid-back "bula spirit."
The second-largest island of Vanua Levu offers honeymooners the perfect balance of seclusion, luxury, and local flavor for a truly memorable romantic getaway. Here are five reasons why it should top your list:
1. Relax "on Fiji time"
There's a common saying on the islands known as "Fiji time," a phrase that mostly translates to a Fijian version of "don't worry, be happy" and "if it doesn't get done today, there's always tomorrow." What could be a more fitting mindset for a relaxing, no-worries honeymoon after all of the work put into planning a wedding?!
You and your partner will definitely appreciate the laid-back vibes and the ability to just breathe, indulge, and spend quality time with one another. Got an email? Don't check it, you're "on Fiji time!"
2. Enjoy Seclusion in Your Own Private Villa
Your honeymoon is a time to focus on each other, so opt for accommodations that let you enjoy your own private paradise away from others. In Fijian, "bure" means home, and homes are traditionally built with thatched roofs and an indoor/outdoor layout which blends into the island's natural surroundings. A private bure or villa with Fijian design elevated by modern luxury amenities like private infinity pools, outdoor showers, and ocean views seals the deal for the perfect hideaway.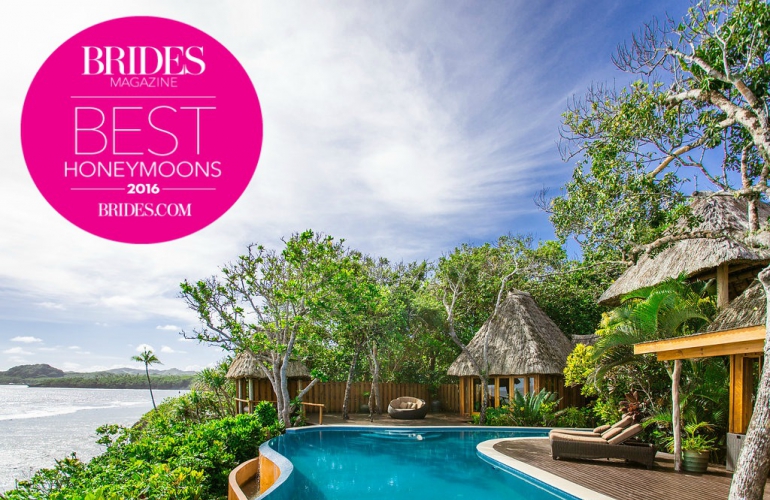 3. Unique and Romantic Dining
There's a reason why travel leader Fodors.com included Namale in its World's Most Unique Dining Experiences – there are so many opportunities to enjoy your wedding bliss over an excellent meal in a private, romantic, al fresco location. From a candlelit seaside cave to a private deck next to a gushing waterfall, sample local cuisine and exquisite entrees in an intensely romantic atmosphere during breakfast, lunch, and dinner!
4. Instagram-Friendly Nature
You'll have unlimited Instagram-worthy moments that will have all of your friends and family pining for your travels. Snap photos on your rainforest hikes to hidden waterfalls, explore tide pools in the early evening for the chance to capture some marine life pics, and stick around on the beach for excellent photo opps of the magnificent colors that ignite the sky at sunset.
5. Adventure and Activities Galore
Spending time lounging by the pool or relaxing at the spa are perfectly wonderful activities for a romantic honeymoon, but those looking for a bit of adventure can easily add a number of activities and excursions to their Fiji itinerary. Just a few of the must-do activities in Fiji include:
Snorkeling the pristine reef systems
Fiji is known as the soft coral capital of the world, as it's abundant underwater reefs make for awesome snorkeling and diving. Witness the vibrant colors of the coral and see marine life in the wild, including turtles, octopus, tropical fish, and even sharks! Fiji's also known for it's unique blue starfish that dot it's rocky shores – see if you can find one on a guided reef walk or in coastal tide pools.
Water Activities
Get out on the water and try your hand at SUP – stand up paddleboarding or kayaking. There's a first time for everything! You'll have fun, get a tan, and enjoy the tropical climate to the max. Some resorts charge extra for water sports, but at Namale, it's included in your all-inclusive package.
Want more reasons why Fiji is the ultimate honeymoon destination? Check out our all-inclusive Fiji honeymoon packages to see all that Namale offers, and contact reservations@namaleresort.com to start crafting your dream trip.