Your Fiji honeymoon is the ultimate romantic occasion to plan something truly above and beyond. After all, these memories are likely to stand out the most compared to any other trip you'll ever take – because after all, it celebrates such a momentous milestone: the beginning of your marital bliss!
So, all the more reason to make it really count! Planning your Fiji honeymoon doesn't have to be arduous, and there are plenty of ways to customize your experience to make it truly stand out and live up to the occasion.
Imagine cozying up in the most luxurious private accommodations, ordering champagne breakfasts from room service, spending your days floating in the pool or going on snorkeling adventures, and enjoying dinner by candlelight at a private table right on the beach. Most of all, design an experience centered on you and your loved one, where you'll feel like you're the only ones in your own private paradise.
To ensure you don't miss out on a single moment, here are eight ways to easily add romance to your Fiji honeymoon!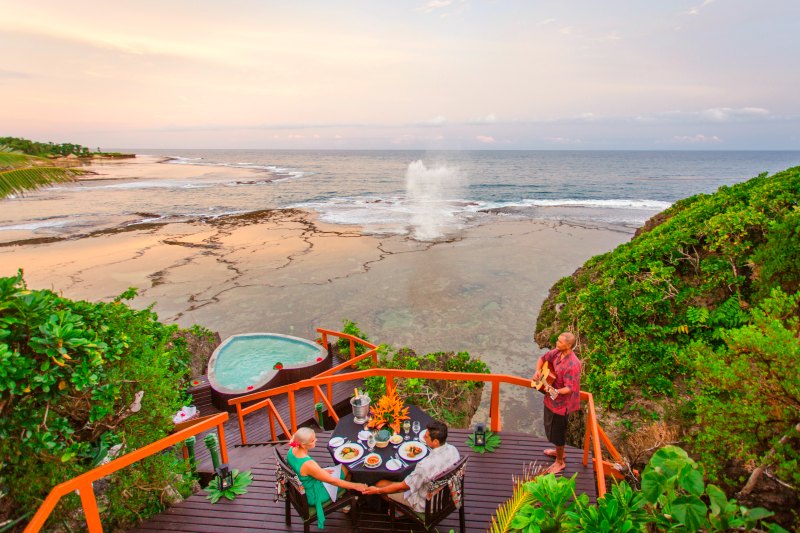 Plan a Private Destination Meal
While enjoying an all inclusive five-course meal out at the restaurant lets you indulge night after night, make sure you save at least one meal for an extra special experience. Organizing a private destination dining experience through the concierge lets you dine as a couple in an ultra-romantic setting at a unique outdoor location.
Imagine a champagne breakfast on a deck nestled into the sea cliffs, overlooking an ocean blowhole spouting off in the background. After your coffee, take a relaxing morning dip in the heart-shaped hot tub and take in the ocean views.
Or, take a hike up to a hidden rainforest waterfall, where you'll arrive to a private lunch set up on an adjacent deck with steps leading down to the freshwater pool. Spend the whole afternoon enjoying your meal, swimming under the falls, and spending plenty of time to yourselves.
For a very special dinner, the beach makes for the perfect private location. Have a table arranged right in the sand or in a sea cave, complete with lanterns leading you to your candlelit table. The backdrop of crashing waves and stars overhead set a dreamy landscape for an incredible seafood meal, complete with champagne and dessert, of course!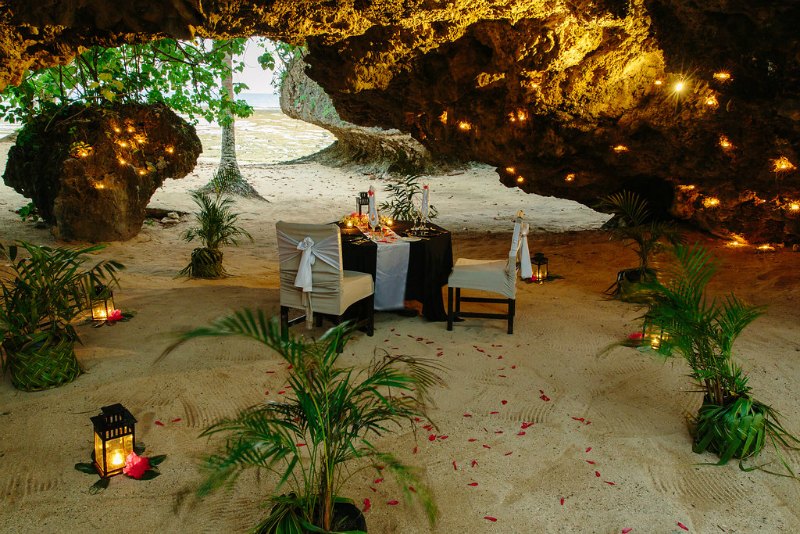 Incorporate the Element of Surprise
Take your destination dining experience to the next level by letting the concierge surprise you! Simply choose what day you'd like to enjoy your meal, arrive at reception at your scheduled time, then be whisked away to a private location!
Leaving some of the planning to the concierge is an excellent way to work in some mystery and magic into your trip, and rest assured you'll be taken care of to the highest standards. Each destination dining experience is carefully crafted to suit your and your loved one's personal tastes – down to the menu, your choice of beverage, and dessert preference!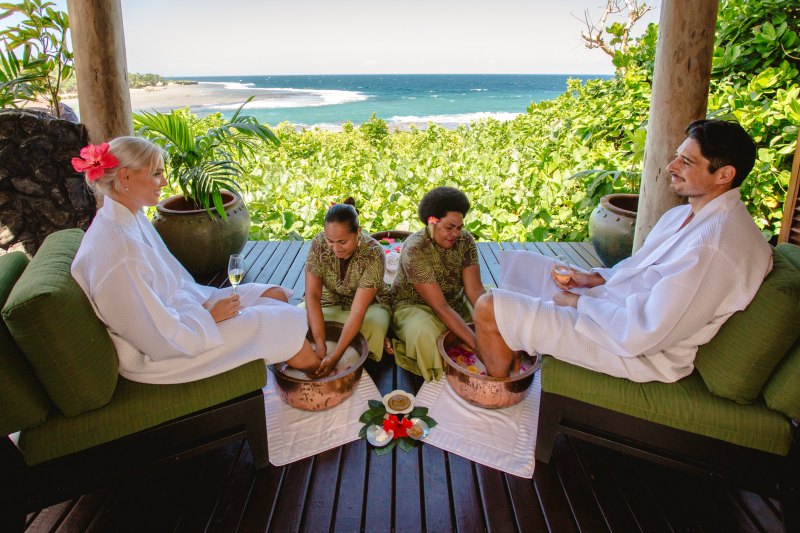 Treat Yourself!
What is a honeymoon in Fiji without a bit of pampering?! Fiji is an incredible destination for wellness, so a trip or two to the spa is a must. Indulge in a unique couples' experience that lets you experience a few different treatments. The Sunset Bliss treatment is the ultimate romantic indulgence – start off your experience on a private ocean view balcony for a glass of champagne and a coconut milk foot soak, then move inside for a luxurious massage set the sound of the waves through the open doors. End your treatment just before 6pm, where you'll enjoy more champagne and small bites while enjoying the colorful sunsets Fiji is world-renowned for.
Or, arrange for a private couples' massage set up on the private deck of your accommodations. You'll be able to enjoy an intimate, private experience, then cozy up for a night in.
Strolling the Beach
Is there anything more romantic than a leisurely stroll along the seashore under swaying palm trees? A walking tour with your spouse is an activity sure to not disappoint. Take in amazing views of the ocean and island as you wander along the sand, through coconut groves, and amongst the gardens. And, be sure to stop along the way for a few key photo opps!

Photo courtesy J. Hunter Peals
Buy Each Other Special Souvenirs
Taking home a keepsake is always a good idea for not only remembering a special trip but also a great way to make a positive impact while traveling. But, make souvenir buying all the more memorable by taking a trip into the local town together to shop for one another. Fiji is home to incredible craftsmen and women who offer tourists a wide range of traditional souvenirs – take home a hand-carved wooden mask, tanoa bowl (used in traditional kava ceremonies), or Fijian tapa (textiles made from barkcloth and stamped with geometric patterns and traditional motifs).
For another unique souvenir that combines a fun adventure with a little shopping, take a tour of Savusavu's pearl farm! J. Hunter Pearl Farm cultivates the world's rarest pearls right in Savusavu Bay, just a 10 minute drive from Namale. Take a boat tour of the farm to learn about the cultivation process, stopping off to snorkel above the oysters suspended from ropes anchored to the sea floor. Then, end your day trip in the showroom and take home expertly crafted jewelry featuring saltwater pearls in hues of ivory, silver, copper, and pistachio.

Try Something New and Adventurous
Never tried scuba diving? Why not try it out on your honeymoon in Fiji! Get past your hesitations and let our activities team teach you and your spouse! There's never a better time to try something a little adventurous and new than at the start of your married life. A tropical adventure is sure to keep the excitement going after your wedding celebration and give you lasting memories (and maybe a story or two!).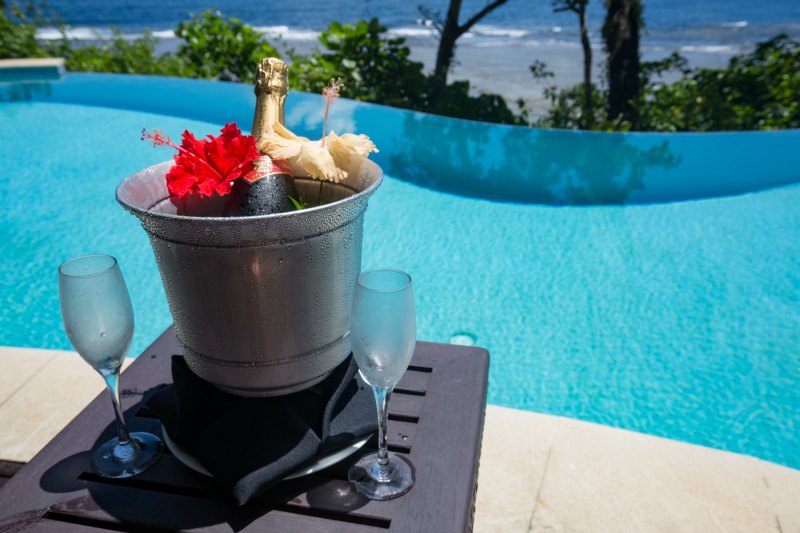 Have Breakfast in Bed
One thing you should absolutely avoid on your honeymoon is packing too much into your itinerary – this is your time to relax and enjoy one another's company after all the planning of a wedding! Take the time to truly indulge, rest, and reset. Start your days slowly, enjoying each passing moment of the morning, and order complimentary room service as much as your heart desires! From pancakes and mimosas set up poolside to waffles and champagne on a tray enjoyed in bed, sleepy mornings together are sure to be some of the fondest memories of your vacation or holiday.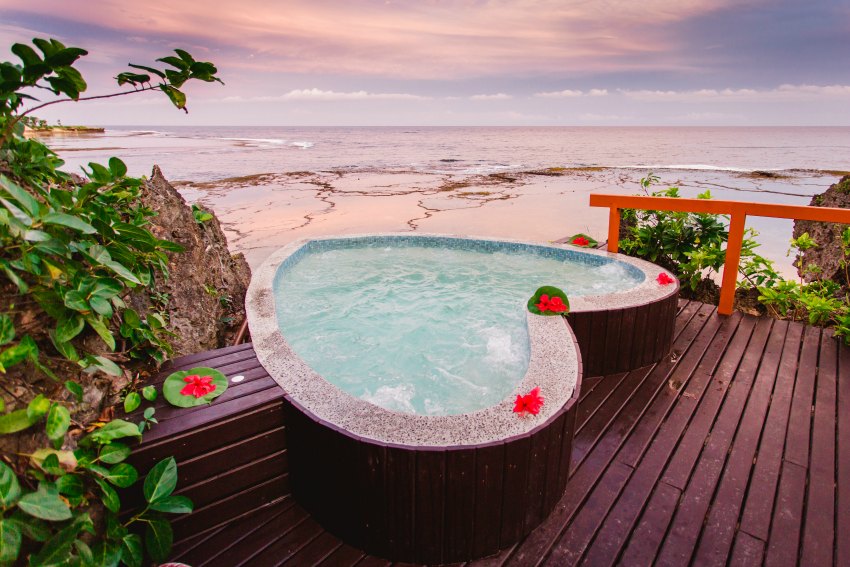 Watch the Sunset Together
Fiji's colorful sunsets are known around the world, and there are so many different ways to enjoy the stunning hues of pink, purple, and orange during your trip. Book an oceanview bure or villa so you'll catch every evening's display from your private deck, or grab a spot on the beach to watch the sun set over the waves. Or, visit Main Bure Restaurant at sunset to catch the views while also enjoying complimentary happy hour followed by nightly cultural entertainment. Every night is a chance for a memorable view and quiet romantic moment together.