There are few things we love more than a beach wedding: bright, tropical florals; a natural aisle of soft, warm sand; swaying palm trees overhead; and the backdrop of gently rolling ocean waves. Is there any dreamier setting to bring your tropical destination wedding to life?
Real life couple Lillian and Arthur recently married during an intimate, island-inspired beach wedding at Namale, and it was truly the kind of wedding dreams are made of! From planning the tropical design elements to getting ready with their small group of family to fun photography sessions by a rainforest waterfall and an underwater trash the dress shoot, Lillian and Arthur created the very special, customized, Fijian-inspired beach wedding they always envisioned.
The joy shared throughout the day and their love for one another is so clearly evident in all of their photos it would make anyone's heart melt.
Check out some of their photos by Island Encounters Photography below, and read on to learn more about this beautiful couple's inspiring big day!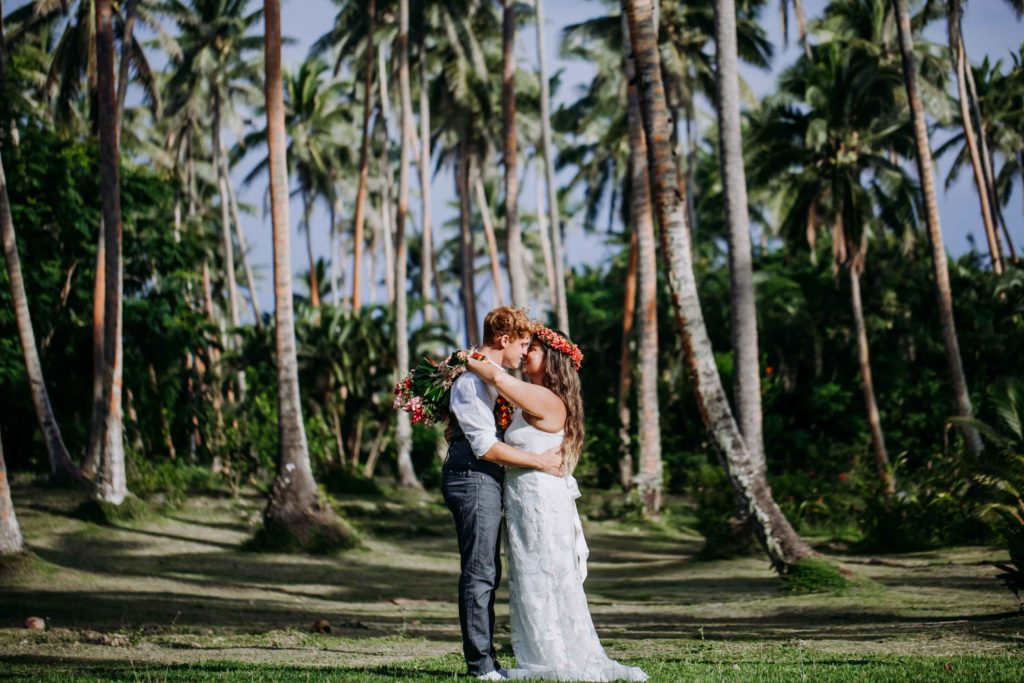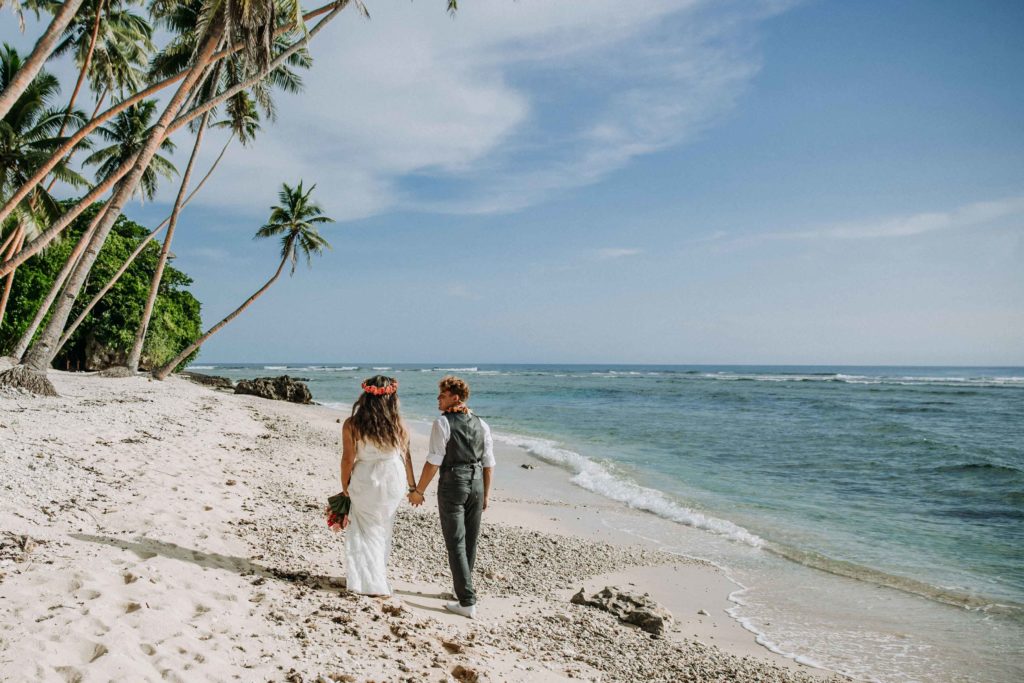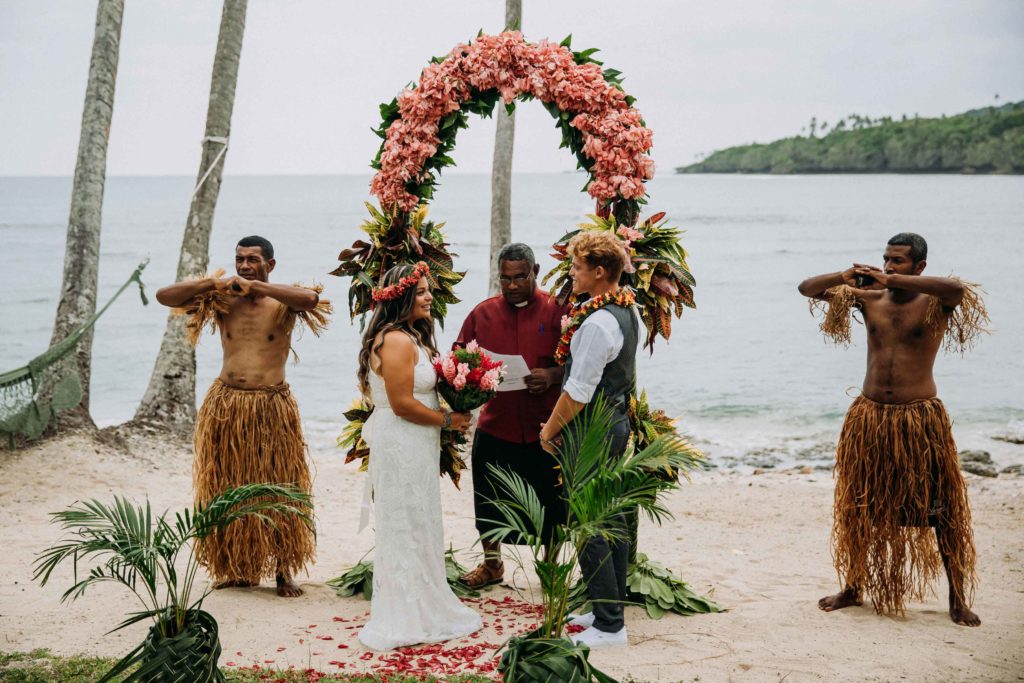 Lillian, a US native, and Arthur, a UK native, met in Sydney, Australia during a scuba diving internship. Both scuba instructors, they had always dreamed of traveling to Fiji, and once they became engaged they knew it was the perfect destination for the intimate beach wedding they pictured.
After doing some internet research, they discovered Namale, inspired by its stunning location in Savusavu and its all inclusive Fiji wedding packages. Despite the initially overwhelming task of planning a destination wedding, Lillian and Arthur worked seamlessly with Namale's reservations office and wedding concierge to make the process easy and fun, and ended up booking a 7 night holiday with one day devoted to their beach wedding ceremony and reception.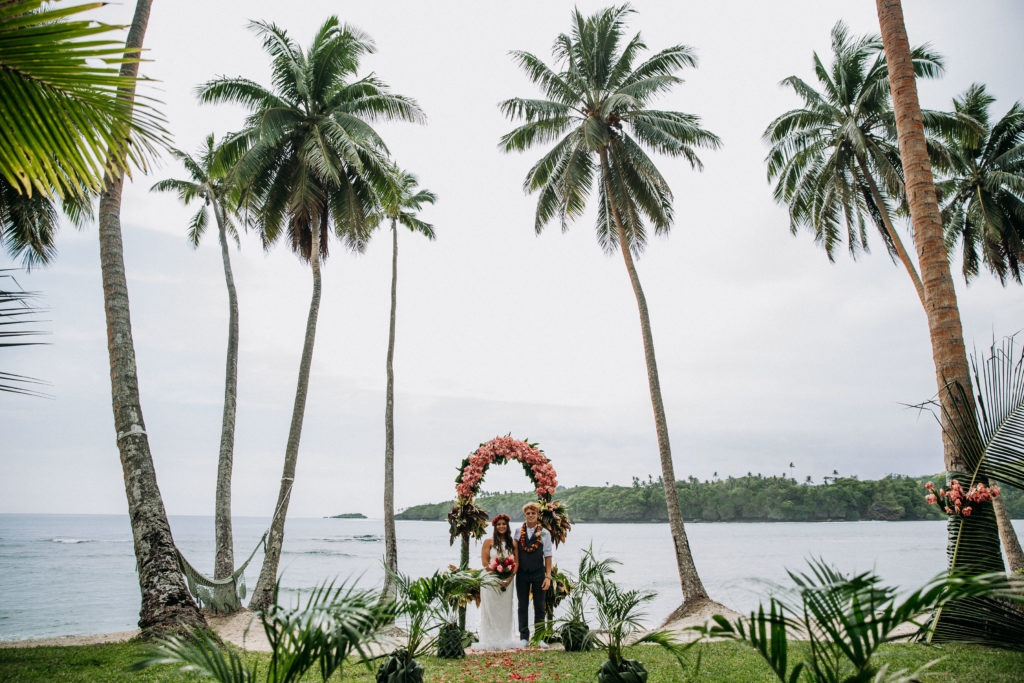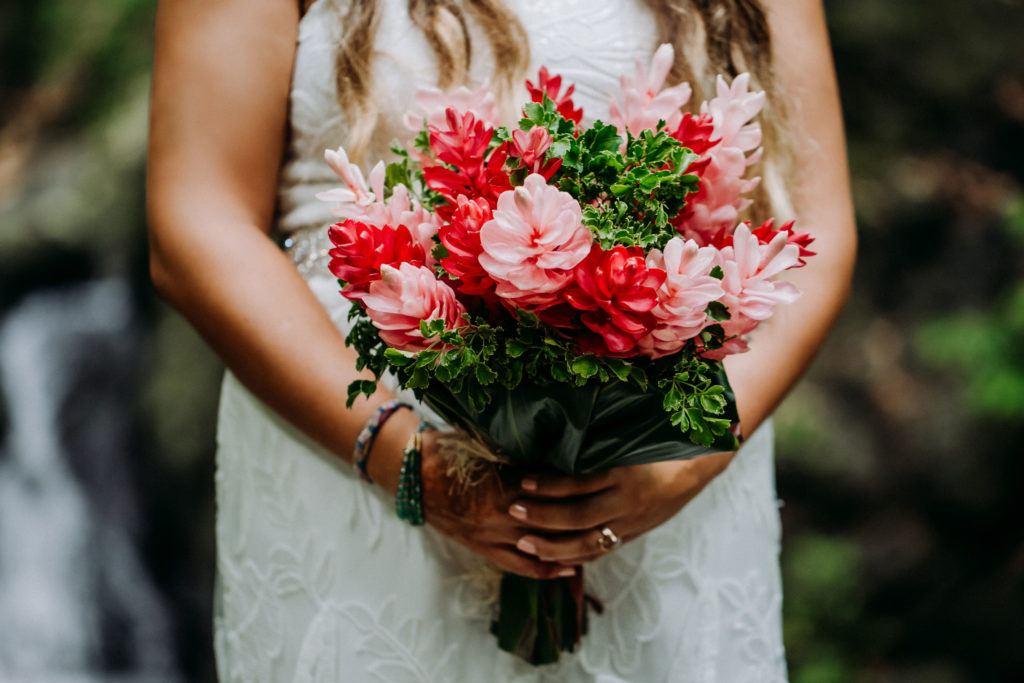 The couple's decor featured a ceremony arch on the beach sporting pink, red, and peach tropical flowers and palm leaves which echoed their lei, floral crown, and bouquet. Such bright pops of color were simple yet stunning, and accented by the beautiful natural scenery of Namale's private beach.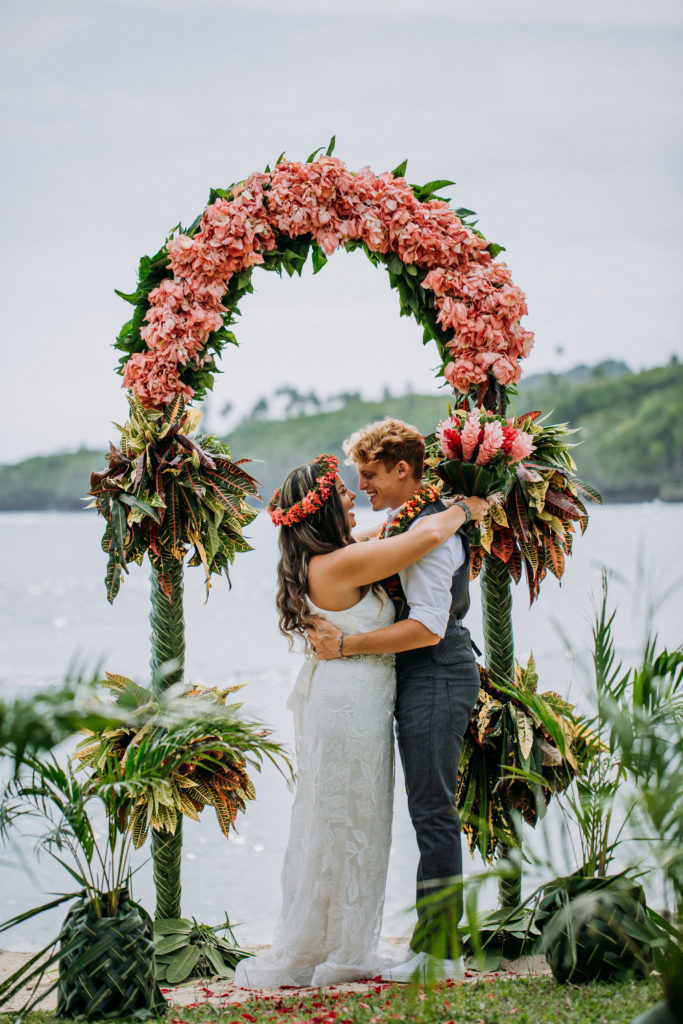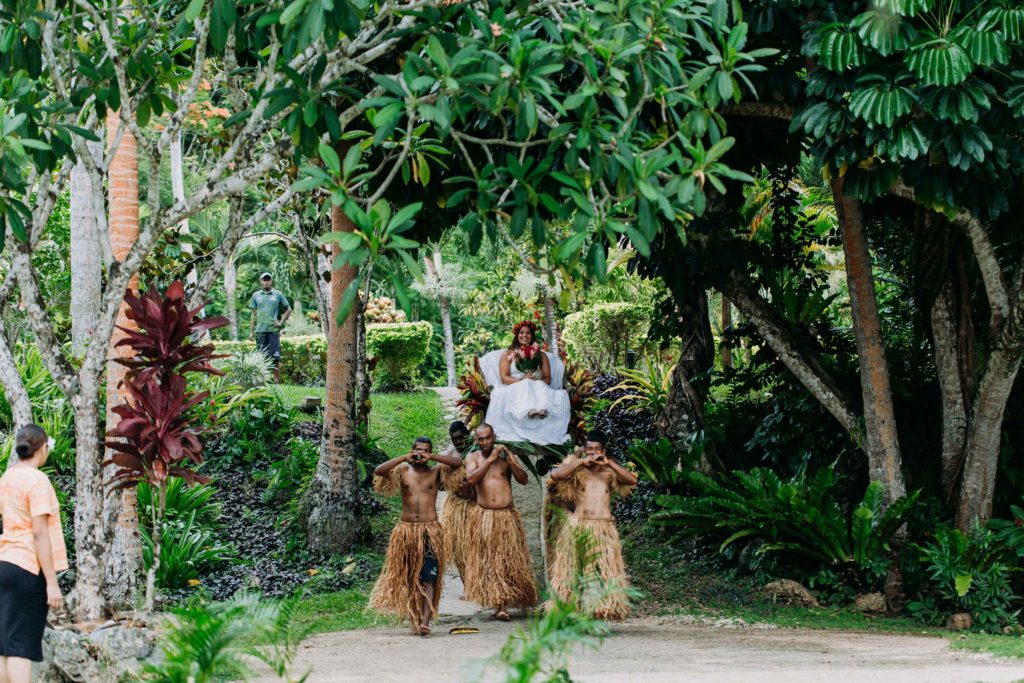 Their ceremony was short and simple, overseen by a Church minister flanked by two Fijian warriors. Lillian opted to further incorporate Fijian culture into the ceremony by being carried down the aisle in a traditional chariot by warriors in traditional dress – a unique and grand entrance! They were surrounded by their family, and read vows they wrote themselves about love and adventure.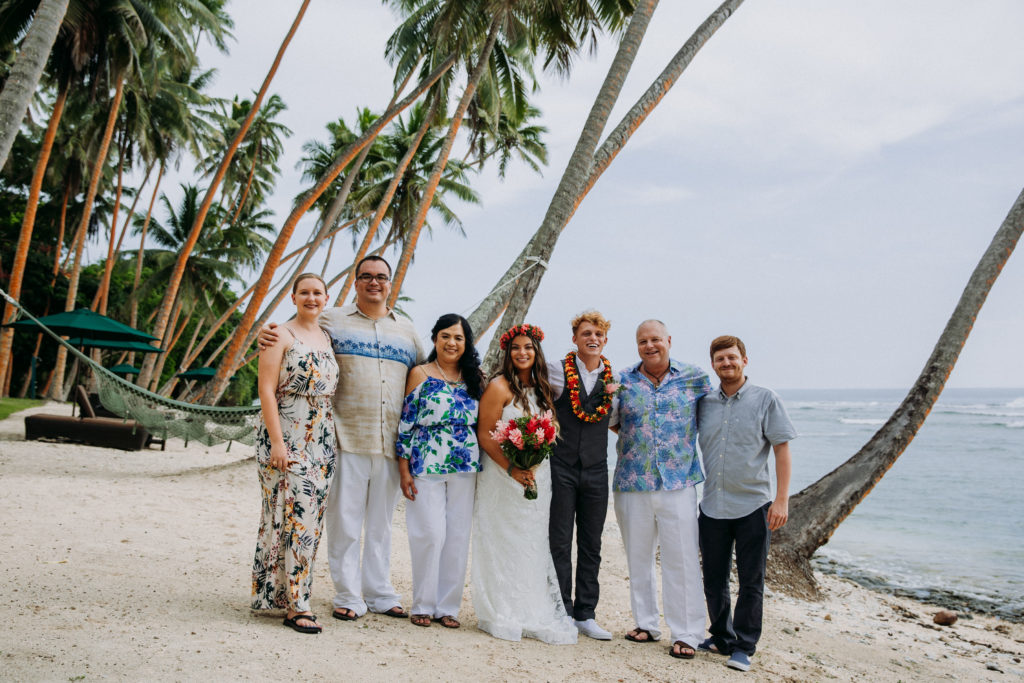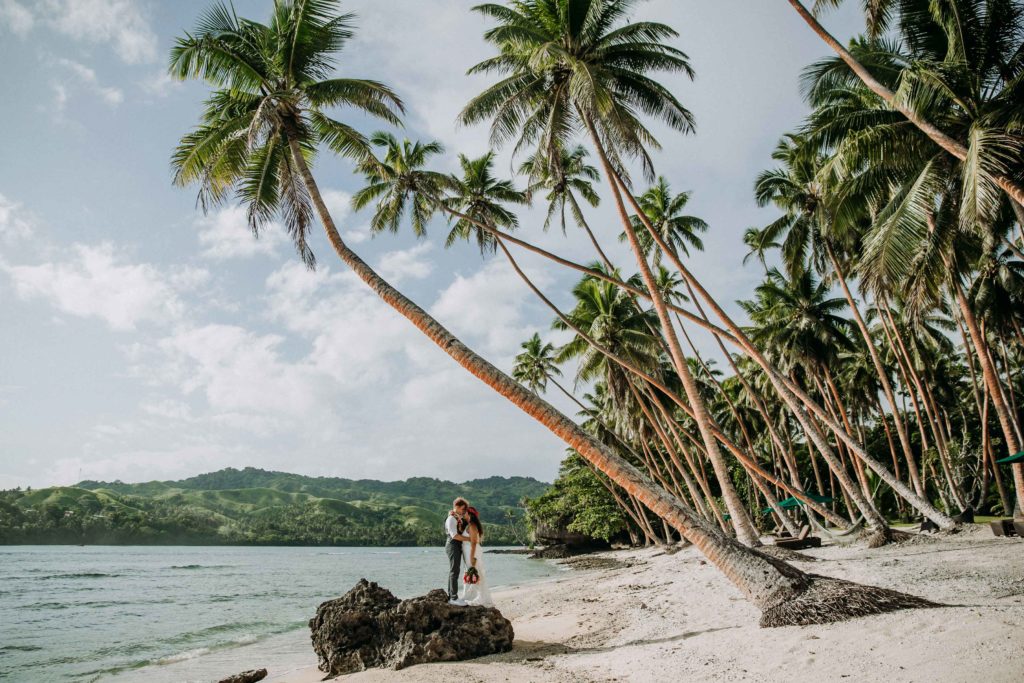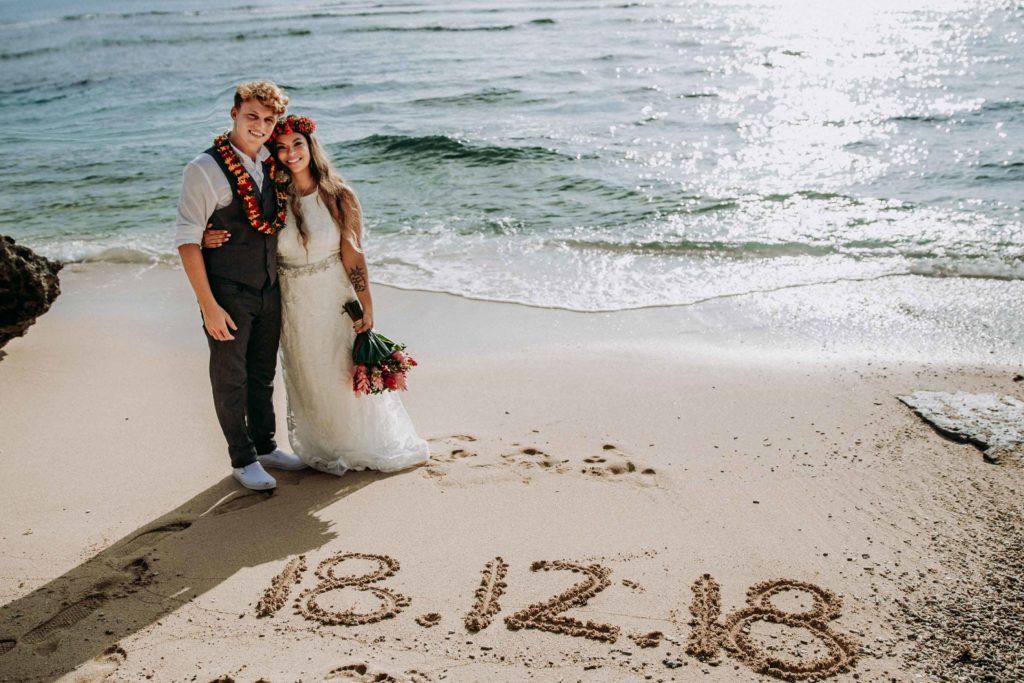 After the ceremony, the couple and group enjoyed a private, intimate reception at Namale's Walu Restaurant, on a large deck overlooking the sea. They shared a menu of lobster and steak, champagne, and a custom chocolate wedding cake set to the ambience of flickering candlelight and tropical floral decor.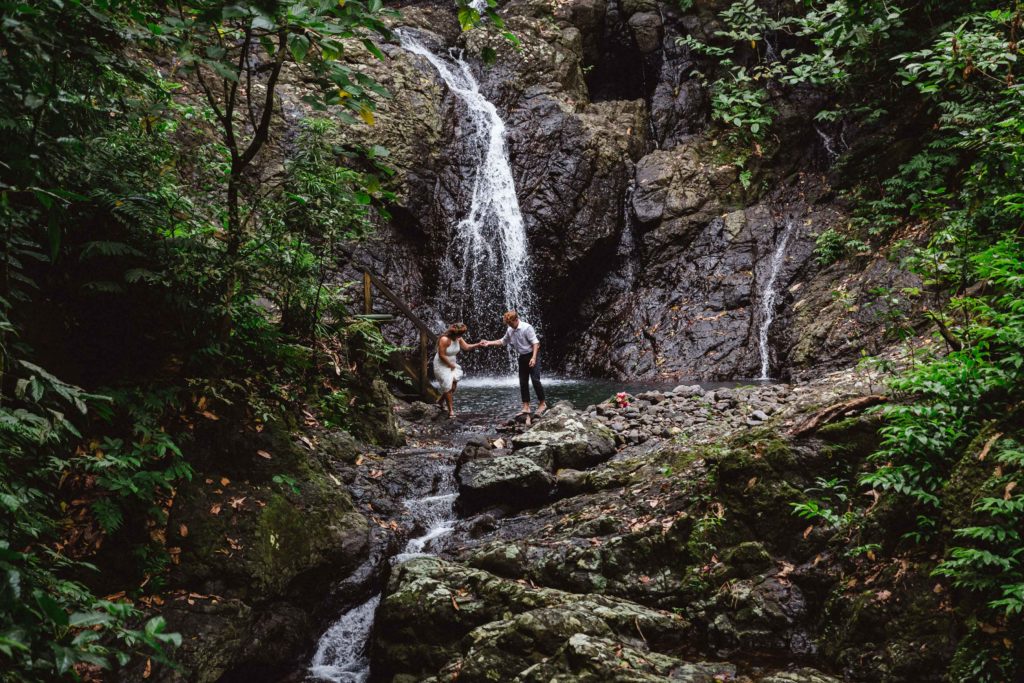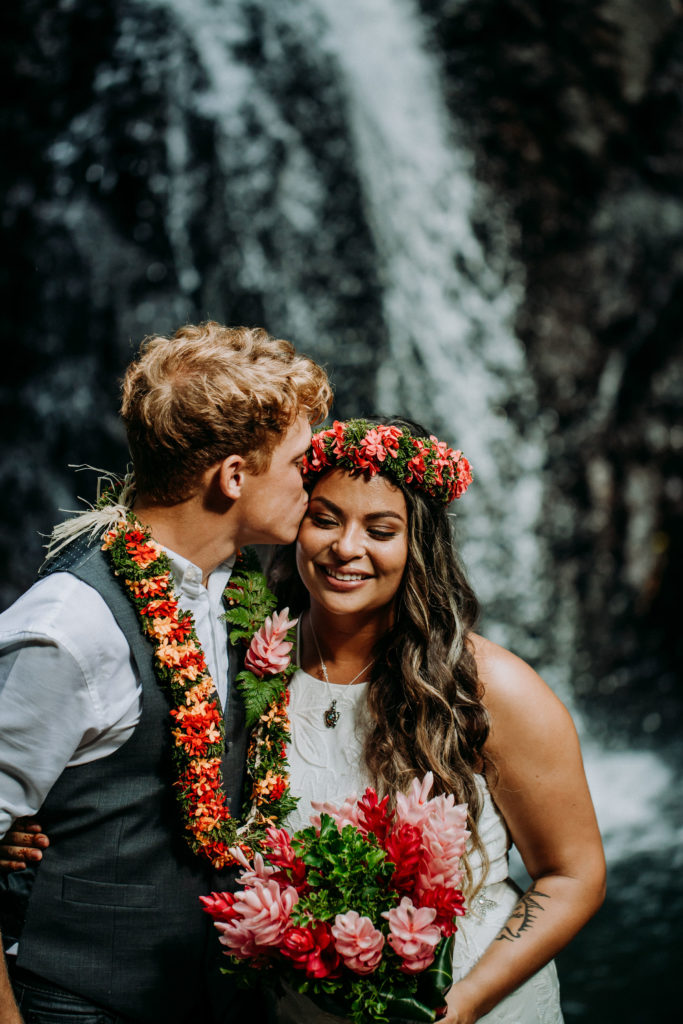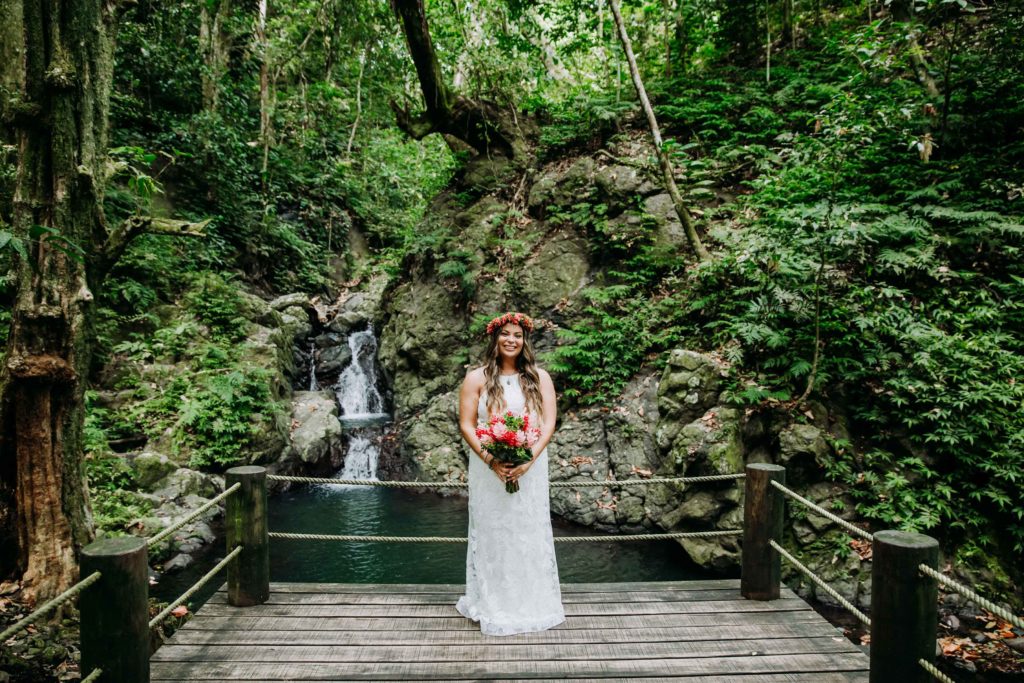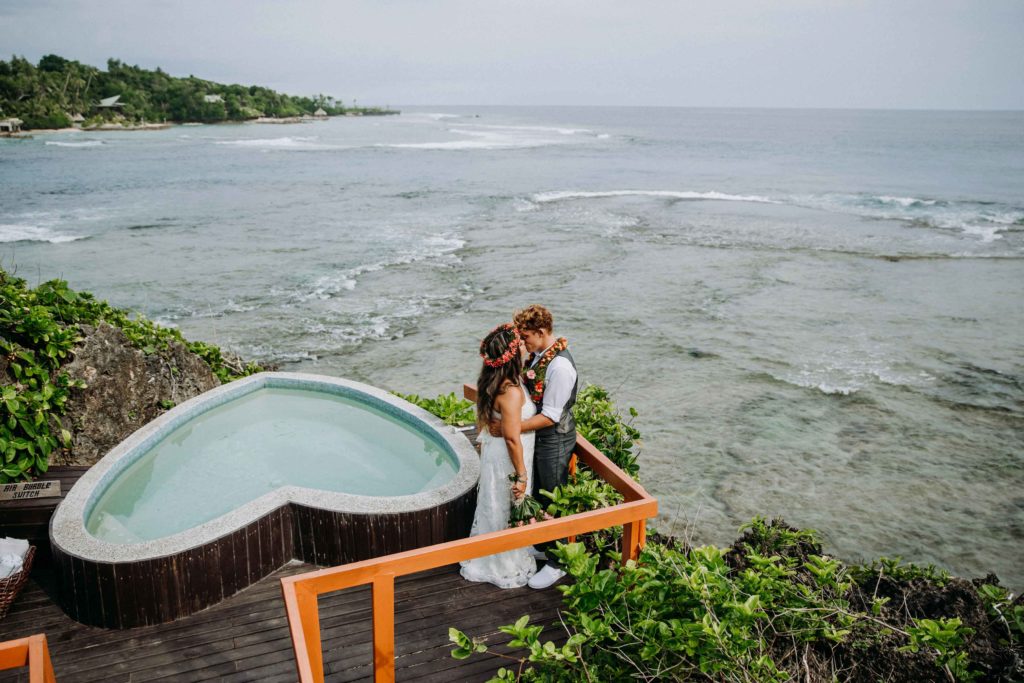 Their beautiful wedding photos showcase the magic of the day wonderfully, from their pre-ceremony shoot at Namale's private rainforest waterfall to their underwater photography session the following day. Being scuba divers with a passion for the ocean, they just knew they had to do an underwater trash the dress shoot with Laura from Island Encounters Photography, so the day after their beach wedding they ventured out on the Namale Pearl to a sandbar in the middle of the sea and jumped in – in their wedding attire! One thing Lillian and Arthur absolutely love about their wedding photos is the way they capture their unique personality and love for one another, and the brilliant beauty of Fiji's landscape.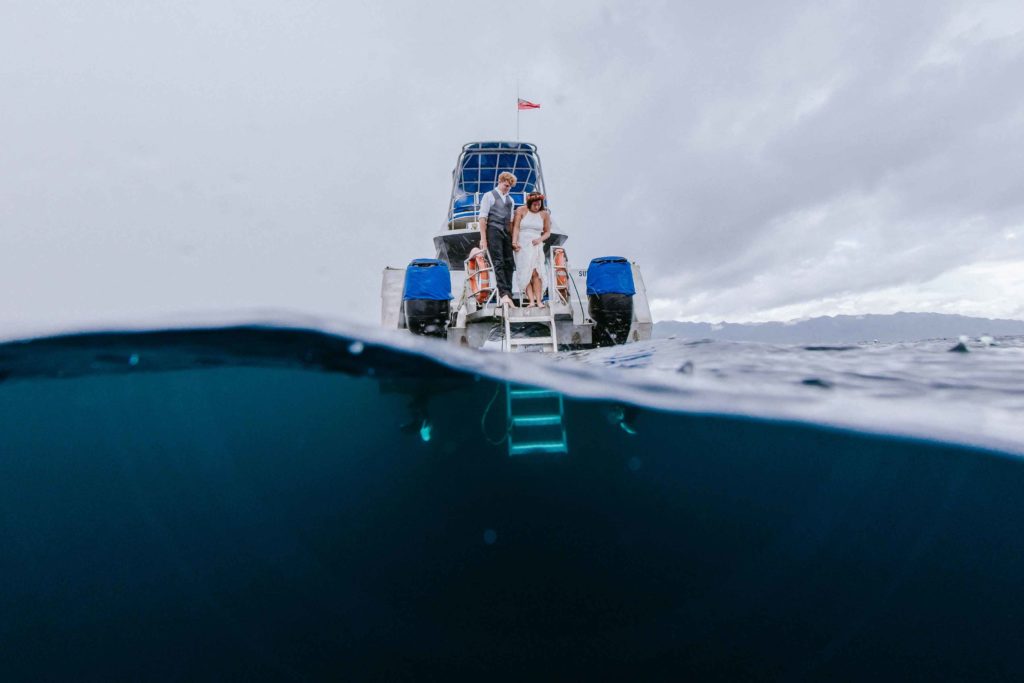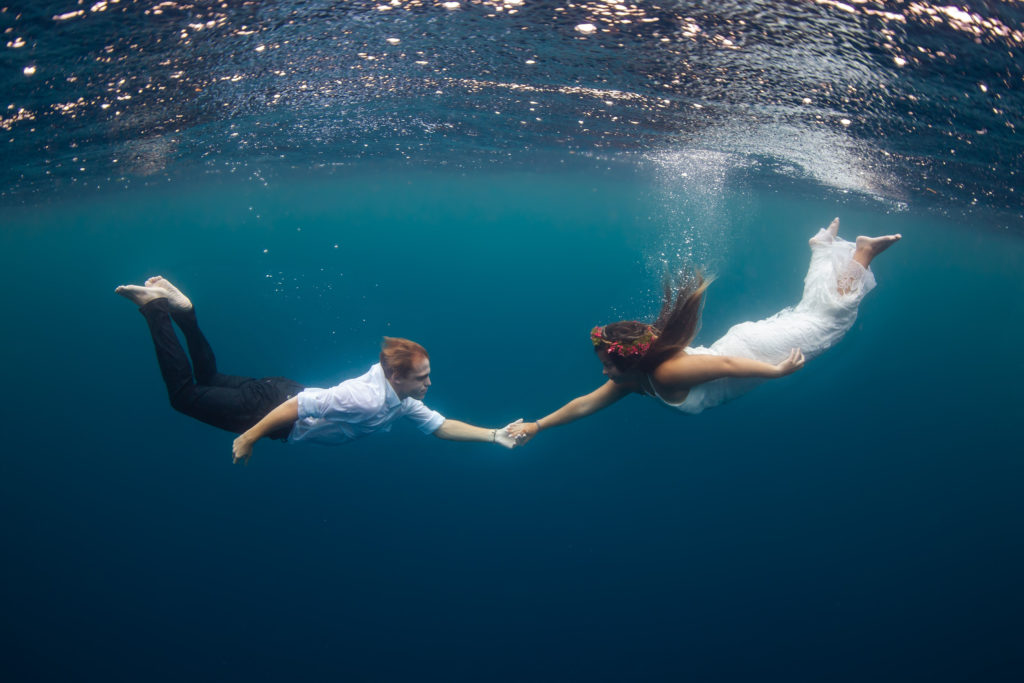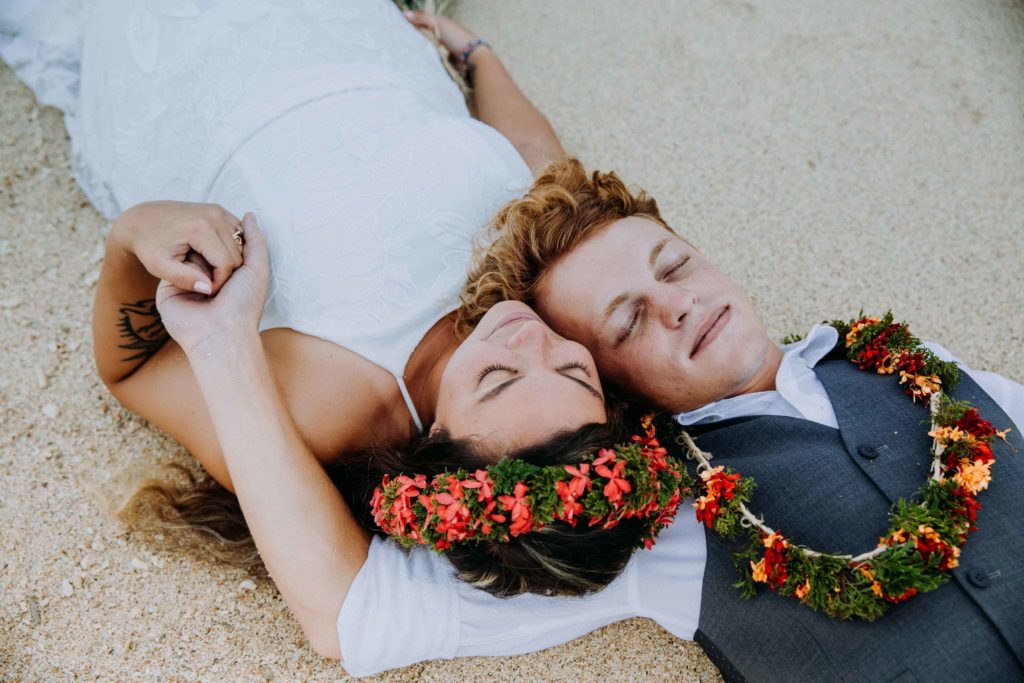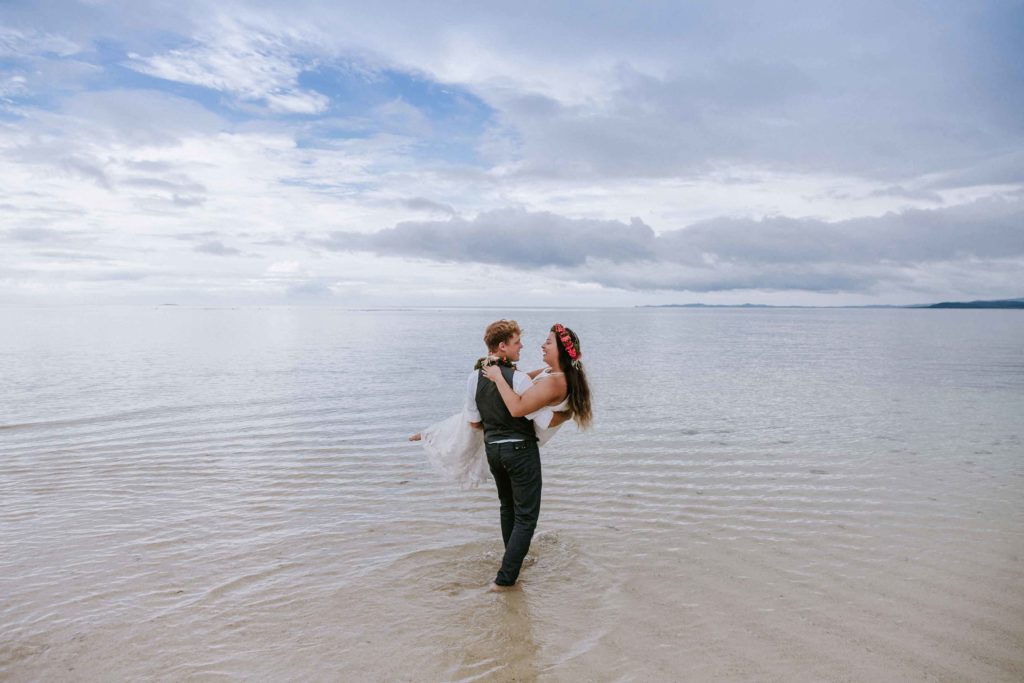 A huge vinaka vaka levu (thank you very much!) to Lillian and Arthur from the entire team at Namale for allowing us to host their special day, and for sharing their wonderful and inspiring love story here on the blog.
Dreaming of your own Fiji beach wedding? Check out how to design the destination wedding of your dreams with Namale's Fiji wedding packages, download our beach wedding brochure, and contact us below!