Travel bloggers Savi and Vid of Bruised Passports have travelled the world extensively, offering expert advice on where to go for luxury honeymoons, adventure holidays, and more! Recently they visited Namale Resort and Spa here in the Fiji islands and shared their experience relaxing in their luxury villas, pampering themselves at the spa, going on active adventures, and sampling the local cuisine and culture.
Check out the below for a recap of their Namale experience and advice for those planning luxury honeymoons in Fiji. Plus, check out their travel blog!
Vinaka vakalevu (thank you very much!) Savi and Vid for sharing your unique Namale experience and Fiji's renowned "bula spirit!"
First stop: settling into Namale's luxury accommodations after a long journey. Savi and Vid split their stay between one of Namale's private luxury villas and a honeymoon bure, each featuring their own unique private pools, ocean views, and spacious interiors. Bure is the Fijian word for "home" or "bungalow."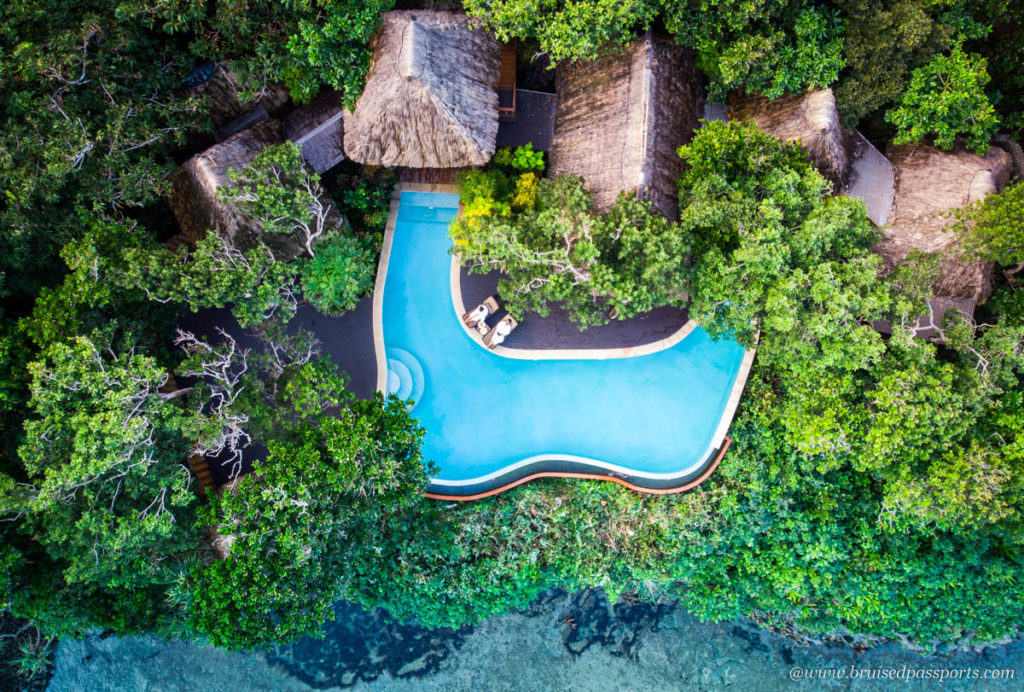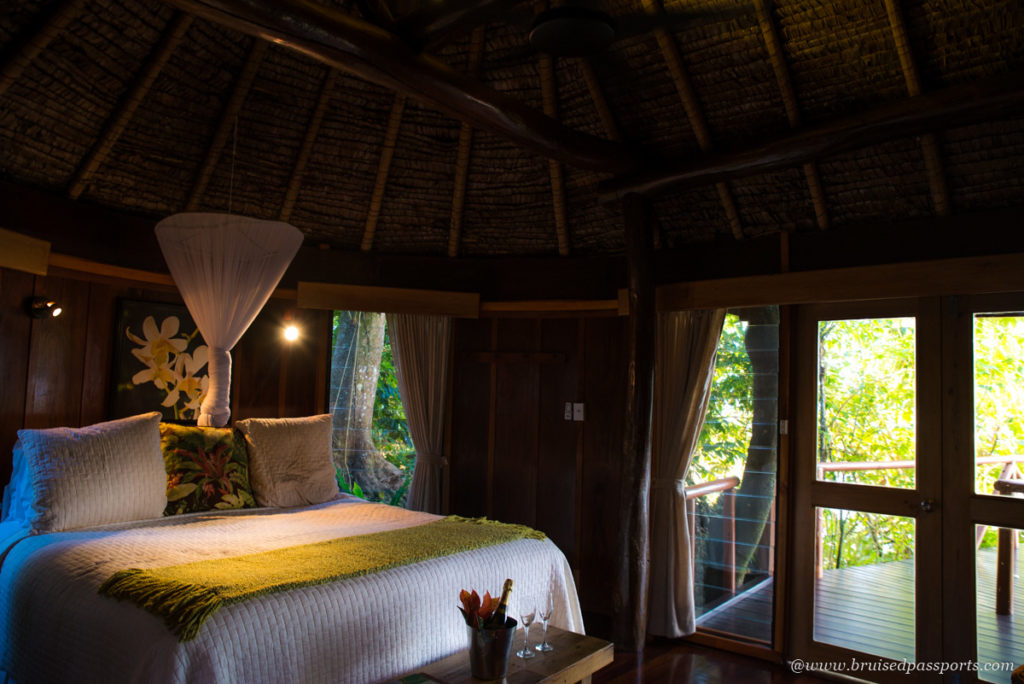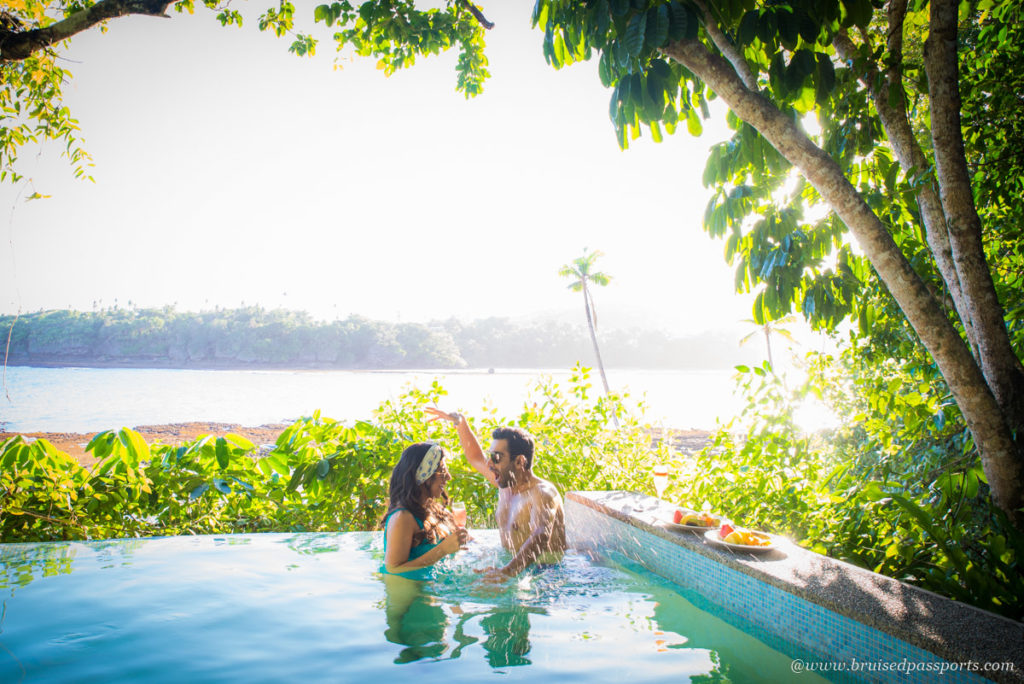 We love this photo of Savi and Vid splashing around in their honeymoon bure's private plunge pool, with a great view of the ocean and surrounding island. Plus some room service treats!
There is so much to do and see in Fiji, and Savi and Vid took advantage of many of our complimentary activities offered at Namale Resort & Spa. Unforgettable experience!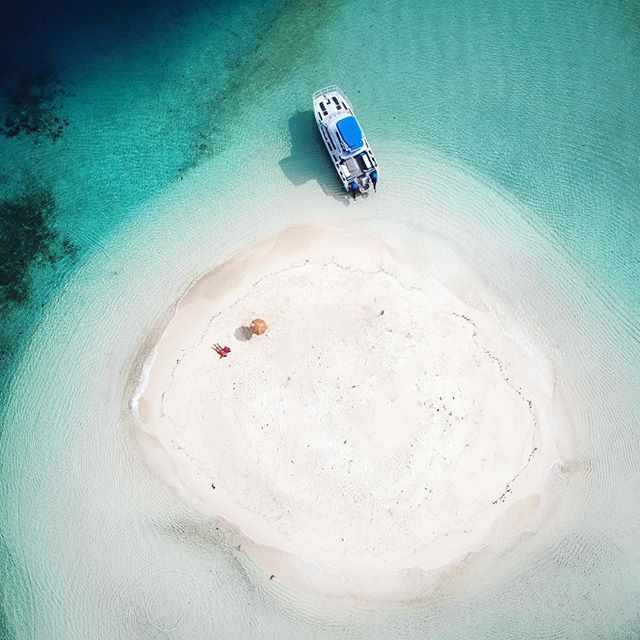 For the more adventurous, there are many ways to venture off resort and explore more of the island through our Fiji island tours. The Sandbar Snorkel + Picnic excursion takes our guests out to sea for a luxury castaway adventure – a half day spent on a deserted sandbar in the middle of the ocean, complete with incredible snorkeling, gourmet snacks and cocktails, and plenty of relaxing in the sun or swimming in the clear, warm sea.
The island of Vanua Levu, and around the town of Savusavu where Namale is located, is home to stunning island landscapes that include volcanic rock cliffs, ocean tide pools, towering coconut plantations, and many hidden natural waterfalls. On a Waterfall Trek with Namale, Savi and Vid ventured off the beaten path, past local villages and through the lush rainforest, to Vuadomo waterfall. The freshwater pools feel extra refreshing after a fun and scenic hike.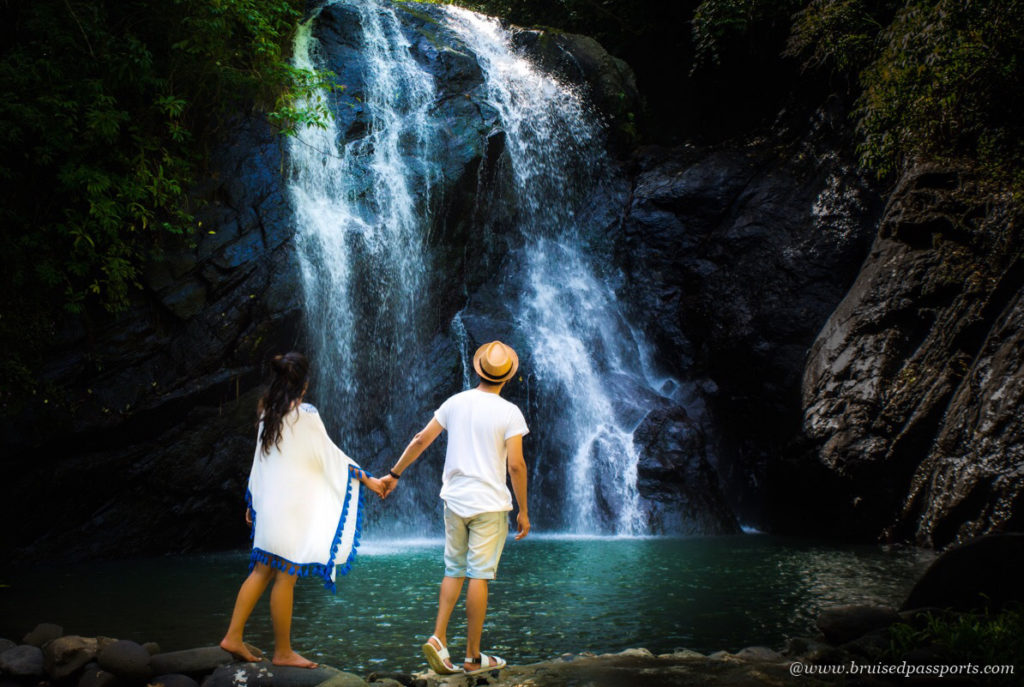 Fiji is one of the most romantic tropical destinations in the world, and you'll find there are opportunities for unforgettable romantic moments at every turn. Enjoy a private destination dining experience at a unique outdoor location, such as by Namale's private waterfall, right on the beach, or on a cliff overlooking the ocean – complete with private service, a five star meal, and a romantic, candlelit ambience.
And, take romance to the next level with a couples' spa experience, like the Moonlight Magic treatment Savi and Vid opted for. Not only will you and your love relax during a 90 minute massage, you'll also enjoy a pre-treatment coconut foot soak and ginger tea, and end your experience with private use of the spa hydrotherapy room, a bottle of champagne, and gourmet hors d'oeuvres.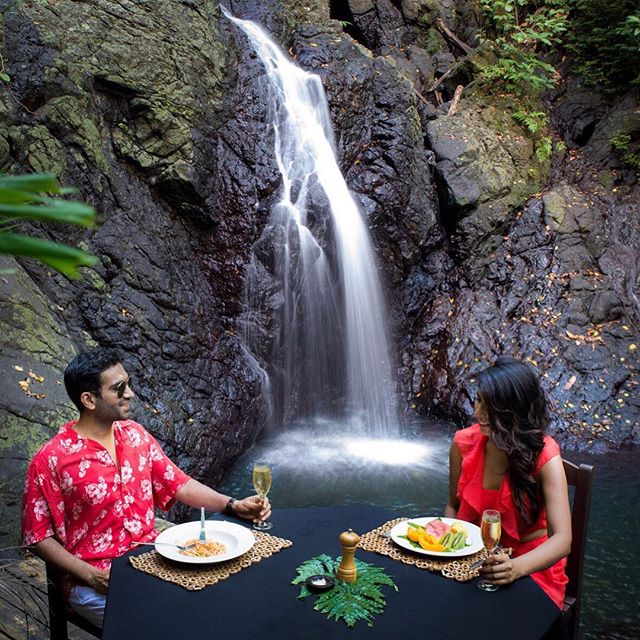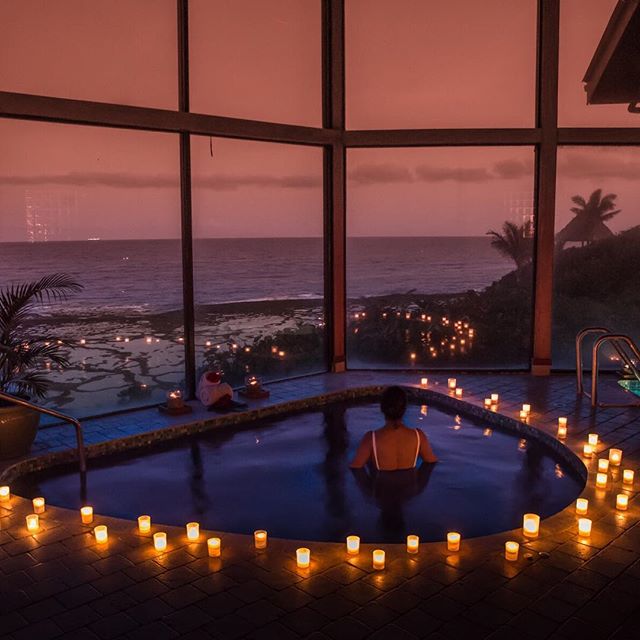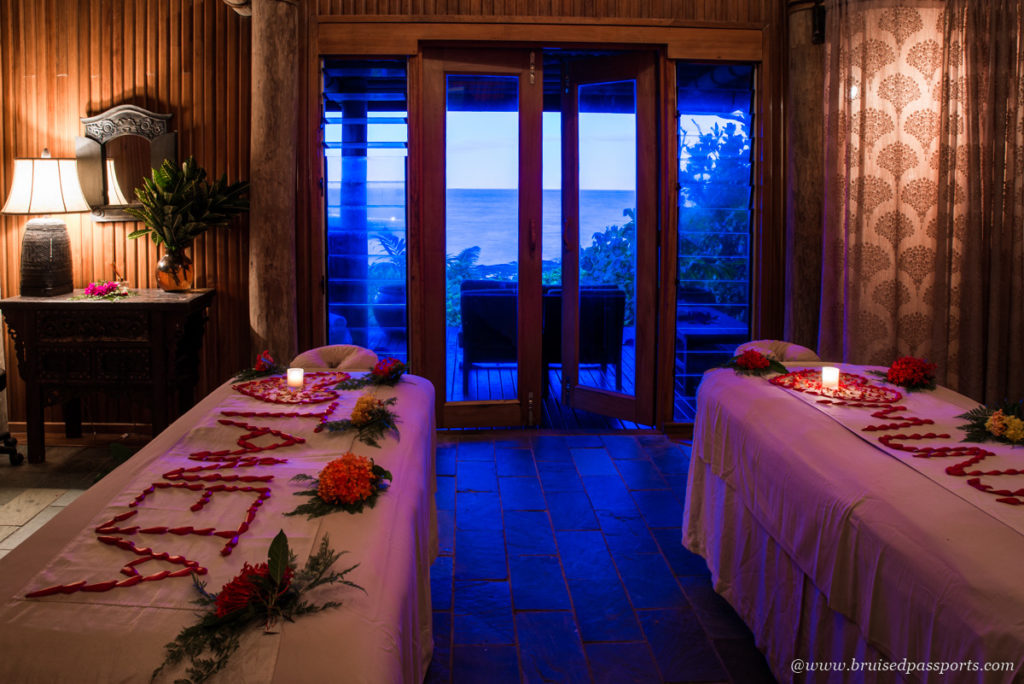 Alas, all great trips must come to an end, but each of Namale's guests leave as part of our Fiji family, and inspired by the island's contagious "bula spirit."
"Cute story – Vid clicked this [below photo] as we were boarding our flight because we just had to click this cute "airport" 🌴🌴 When the Fiji Airways staff saw him take out his camera, they actually offered to get the luggage cart out of the way and that's not all – the pilot actually offered to move the PLANE if we wanted 🙈☺ Of course we didn't take him up on it but wanted to shared it because I don't know of any other country where that would happen! ONLY in Fiji! People are so friendly and so laidback, it's UNREAL !! Leaving with all the warm fuzzies"
-Savi, Bruised Passports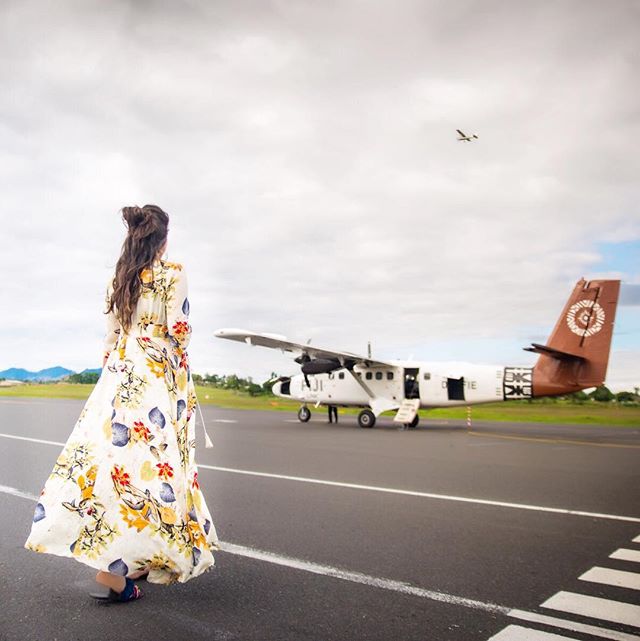 Sota tale (bye for now), Bruised Passports!
Want to read more about the Namale experience? Check out the Perfect Fiji Honeymoon Itinerary for another sample of what your customized experience could look like, or Fiji Through the Eyes of Blogger Drea Chong for more first-hand accounts of beautiful Fiji.

Namale's partnership with Bruised Passports was offered in exchange for a complimentary stay. However, the opinions expressed freely by Savi and Vid are entirely their own.