This week TripAdvisor announced the winners of it's annual Travelers' Choice Awards for 2016, and Namale Resort & Spa has been recognized as one of the Top 10 Luxury Resorts in Fiji! The award is presented to hotels and resorts that continually receive positive reviews from travelers in the TripAdvisor community. The hallmarks of Travelers' Choice winners are remarkable service, quality, and value – something we here are Namale are absolutely committed to when it comes to each and every guest.
For the third year in a row, we've been thrilled to receive such a great honor from TripAdvisor. We cannot thank our guests, partners, and the travel community enough for their continued support and for sharing their memories and personal experiences.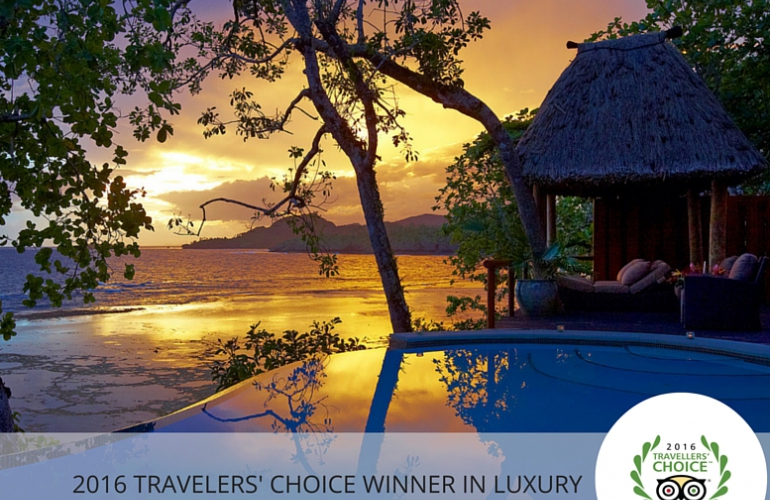 WHAT MAKES NAMALE SO UNIQUE?
We strive to provide the most unique, luxurious, and authentic experience to everyone who visits our Fiji home. By redefining all-inclusive, we're providing our guests a completely customizable retreat bursting with opportunities to relax, experience, and explore. Whether it's dining at a private table next to a rushing waterfall, exploring the underwater world through a guided scuba diving tour, or entering pure bliss during a relaxing spa visit, we allow you the freedom to define your perfect Fiji vacation.
WHAT OUR GUESTS ARE SAYING
Here are a few of our favorite messages from our recent guests!
"We have just returned from paradise which included our wedding at Namale. We could not fault the resort at all and knew we had chosen the best place on earth to become husband and wife. The staff were amazing and could not do enough for us. Thank you everyone from the Namale family for making out dreams come true." – Troy and Anita
"Every detail was carefully thought out. Our favorite part of staying at Namale was the dine out options where the staff will set up a romantic meal at any location on the property. Every member of the staff was overwhelmingly friendly…we could really feel how much the staff enjoyed their jobs which speaks well of management. I hope to return someday – maybe to celebrate an anniversary…such a romantic property sitting on the South Pacific. We miss it everyday!" – Alan
To see more reviews of Namale Resort & Spa, visit TripAdvisor.
To read the press release, click here.