Dreaming of tropical Fiji weddings has us picturing blissful beach ceremonies, bright, colorful florals, and breezy white linen paired with bare feet – all the perfect elements of a laid-back, island-inspired destination wedding.
We caught up with real life couple Ingrid + Errol who recently brought this vision to life in their intimate, radiant, tropical wedding + honeymoon at Namale.
From being carried down the aisle in a traditional chariot by Fijian warriors to wearing gorgeous tropical floral salusalu (Fijian garland or lei) to having a flower girl and ring bearer from the local village, Ingrid and Errol's big day was imbued with Fijian cultural elements and the stunning natural scenery of paradise.
Hear a few details from Ingrid herself below, and get swept away to paradise with their stunning imagery by Island Encounters Photography.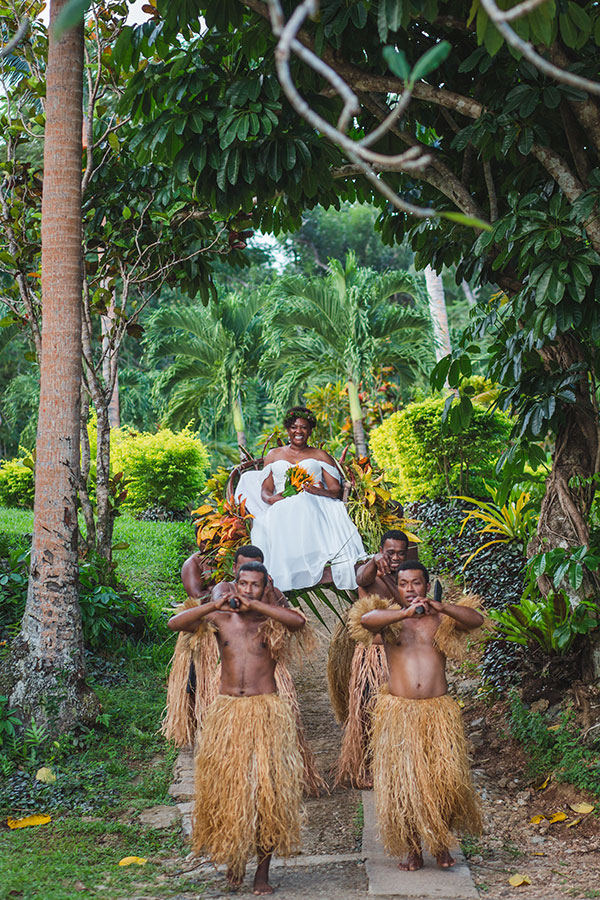 Describe your wedding day. What kind of destination wedding did you envision?
Our wedding day was spectacular – I could not have imagined a better day.  From the day that we decided to get married in Fiji at the Namale Resort and Spa, Filo [Namale's wedding concierge] was absolutely amazing. Everything except for the location on the island was planned prior to our arrival.  From picking flowers in my bouquet to the time of the wedding, it was all completed.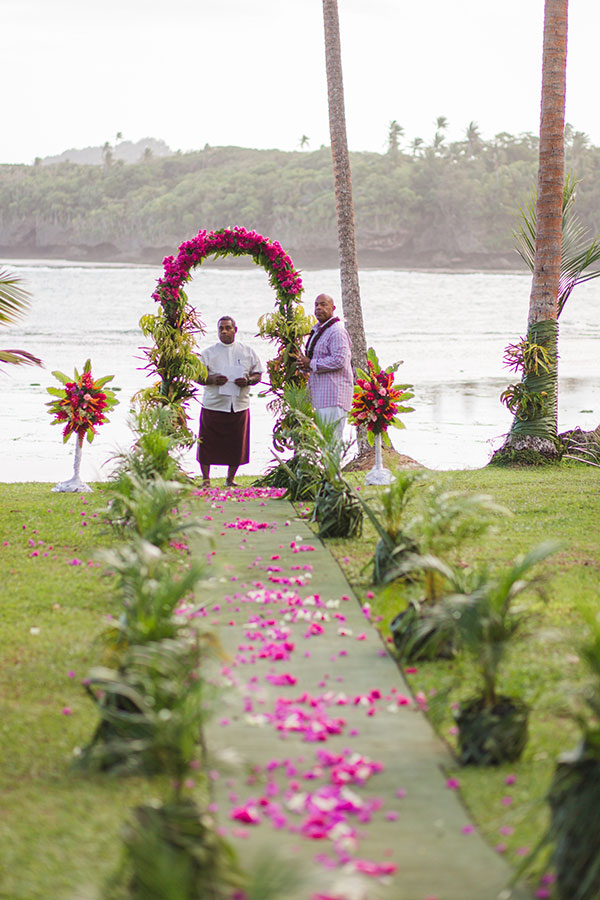 Why did you choose Namale Resort and the Fiji islands for your destination wedding?
We chose Namale because it was an all inclusive 5 star resort. Fiji was a place that I had researched and put on my bucket list of places to go. So when we decided to get married and do a destination wedding my number one place was the Fiji Islands. From research, speaking to different travel agents that had been to Fiji, and to watching You Tube videos, we decided upon Namale. The pictures do not do it justice. The people at Namale are BEYOND amazing. I will forever hold them dear to my heart as they made sure that every detail was taken care of, and no matter what we requested it was never out of the question.  I will spend the rest of my life trying to return to Namale.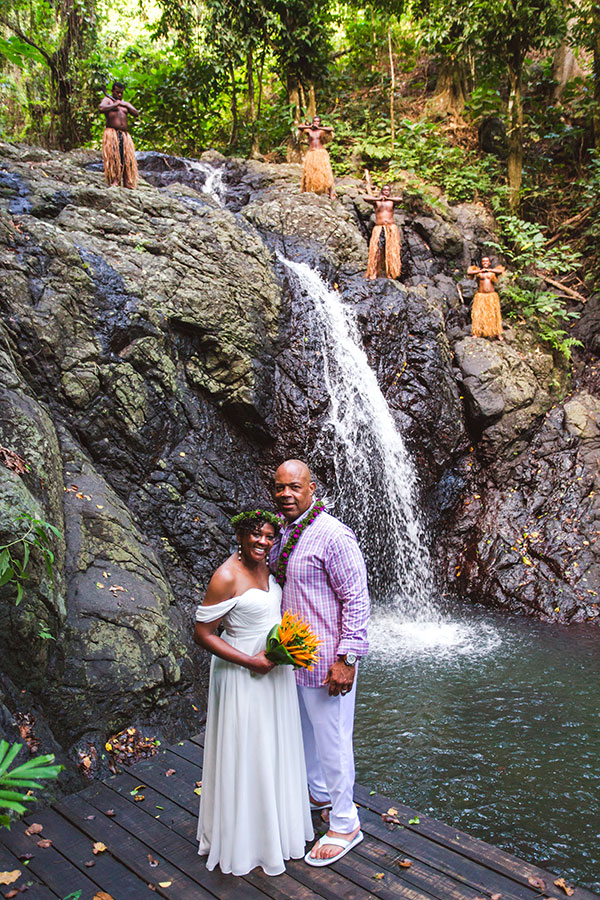 What was the most memorable moment from that day that you'll never forget?
I can't say one thing that stood out more than the other.  Our bure [Fijian bungalow or villa], with its private plunge pool that overlooked the Koro Sea, was breathtaking.  The detail put into our wedding to ensure that all of my desires were exceeded. The private lunch at the waterfall, the sunset cruise, the excursion to the private sandbar in the middle of the ocean, the town tour, the private movie theater with popcorn, scuba diving, snorkeling, the food (OH MY GOSH) the food, eating everyday looking out at the ocean, eating in a private cave by candlelight.  EVERYTHING was by far AMAZING.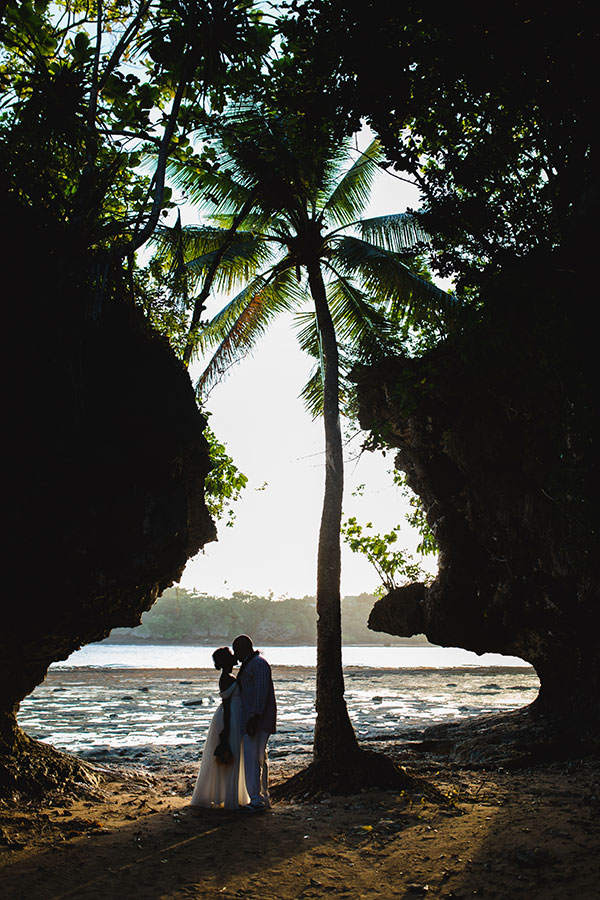 How did you spend your honeymoon days afterward? What were the most romantic + unforgettable experiences you had?
Our honeymoon was spent right at Namale, were everything you could ever hope for and/or imagine was taken care of.  Every aspect of our honeymoon was romantic, and it's all inclusive. If I had to do it all over again the only thing that I would change would to be able to stay longer. The spa was ABSOLUTELY AMAZING we had the Moonlight Magic treatment and it was beyond what we could have imagined.
Do you have any advice for brides considering Fiji weddings?
For any bride that is considering a destination wedding, please consider Fiji and the Namale Resort and Spa! I can assure you, your expectations will be exceeded.  And you will have the wedding and honeymoon of your dreams.
For more Fiji weddings inspiration, see another Real Fiji Weddings: Amanda + Jairek's Fiji Paradise Wedding or How to Have the Most Romantic Fiji Wedding.
Florals, ceremony, and location: Namale Resort and Spa / Images and content courtesy of Ingrid + Island Encounters Photography / This Q&A has been edited for grammar + clarity.