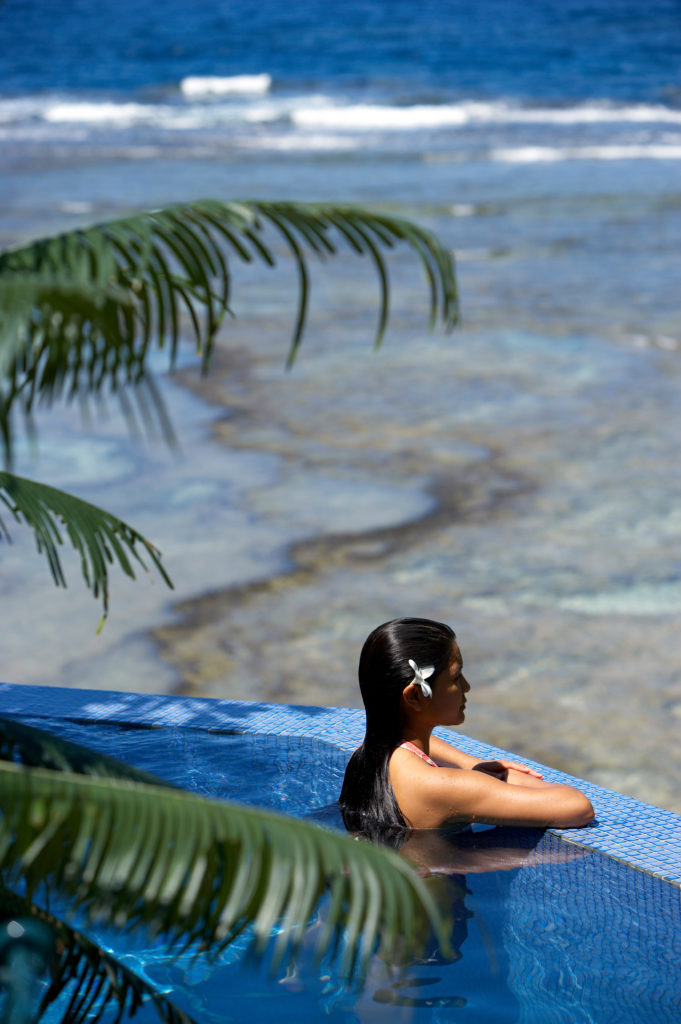 With the intoxicatingly beautiful island climate, a fresh + healthful diet, the good company of your loved one, and the friendly Fijian people, travelers to Fiji can enjoy the jubilant "bula" lifestyle that has thrived in the South Pacific for centuries.
The secret to achieving the healthy glow of the islanders lies not just in this vibrant attitude and joyful spirit, but also in the natural elements abundant in Fiji. Learn how we integrate these enticing and nourishing elements native to the Fiji islands into everything we do at the Namale spa sanctuary.
For those looking for wellness vacations and spa holidays, Fiji is the ultimate destination! Our paradise in Savusavu, Fiji offers the perfect atmosphere for relaxation, indulgence, and total mind and body wellbeing.
Using the Natural Elements of Fiji
The Fiji islands abound with naturally nutrient-rich elements that help to heal, nourish, and rejuvenate the body and mind. Our spa focuses on organic, locally produced, and wild harvested ingredients for the freshest, most luxurious oils, scrubs, and tinctures used in our treatments. In addition to our own unique blends, we offer Pure Fiji lotions, scrubs, and other spa products designed using the bounty of the islands. Here are just a few of our favorite ingredients:
Exotic Nut Oils
Virgin Coconut Oil
Namale's 525 acres used to be a working coconut plantation. Now, the acres of towering coconut palms swaying under the afternoon breeze make for the perfect backdrop for our guests' experience.
At times, you'll see our staff using extended poles to knock coconuts from the trees, and machetes to crack open their rough, hard shells – the perfect afternoon drink, or a key ingredient in our resort kitchens. But the virtue of coconuts goes even further – locally refined, extra-virgin coconut oils is the base for many of our massage infusions.
Using a cold-pressing and filtering process, the molecular integrity of the oil is maintained to pass on the huge benefits of coconut to the skin – including its intense moisturizing, anti-aging, and antiviral properties.
Macadamia Nut
Another important and popular nut in the Fiji islands, Macadamia oil is great for toning aging skin, and is ultra-rich in vital omega 3's and omega 6's. Macadamia oil penetrates deeply into the skin for lasting softening and healing of the skin, and works to nourish and protect the skin and hair. You'll find this beneficial nut oil used in many Pure Fiji products available at the spa.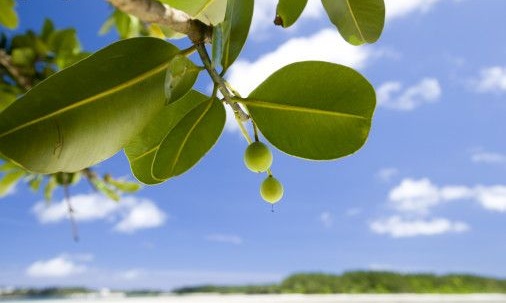 The Sacred Dilo Nut
Known as the "tree of a thousand virtues," the native Dilo tree (pronounced "dee-low") is a powerful plant essence used throughout Fiji. It even plays a strong role in Fiji culture – in pre-Christian folklore, Fijians believed the Gods hid in the Dilo trees on the seashore to observe human activities!
The medicinal trees can be found on the shore, flourishing in the coral sands of Fiji's beaches and coasts and drawing sustenance from the nutrient-rich, warm waters of the sea. Native to India, the Dilo tree is found throughout the Polynesian islands. The small green nuts resemble an apricot in size.
Its unique properties enhance the skin's ability to repair damage, and helps to soothe irritation and pain – often used as a traditional topical aid and antihistamine in the islands for all sorts of skin ailments, such as sunburn, insect bites, dry skin, burns, wounds, and rashes. Be sure to pick up a bottle of Pure Fiji's Dilo Rescue Body Gel or Spray after your treatment to take home with you!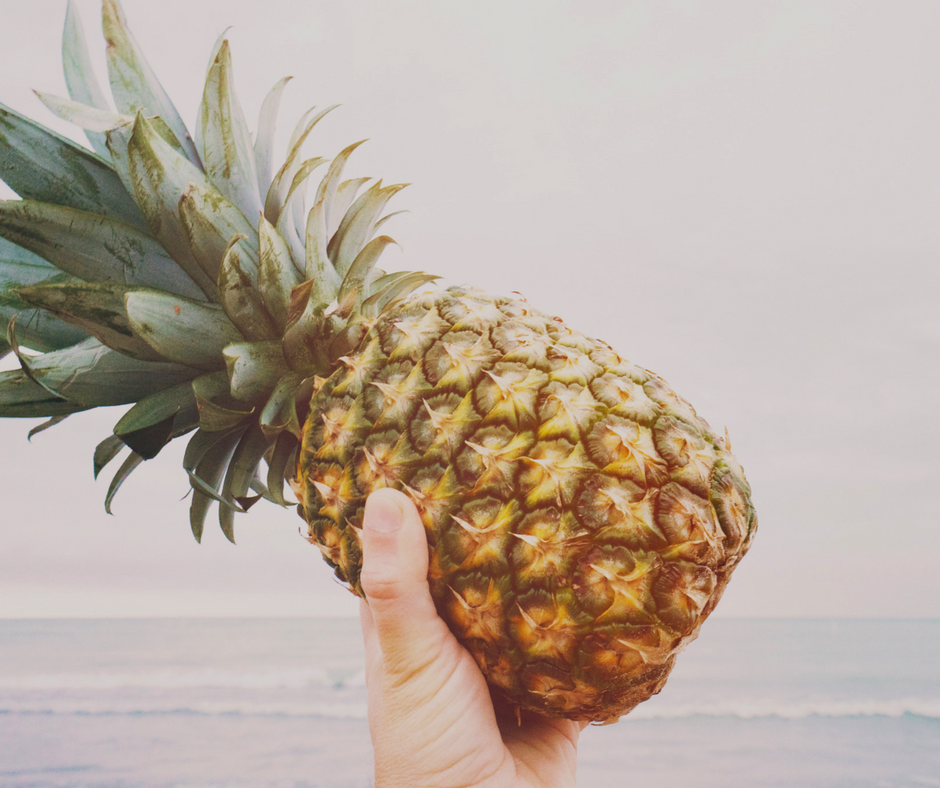 Island Citrus
Noni
While it's not much to look at on the outside, Noni fruit is widely regarded by Polynesian herbalists as a key medicinal plant. The noni fruit's natural properties include reducing inflammation and regenerating damaged skin. It is ultra-rich in antioxidants and aids in restoring skin to a healthier, younger-looking state. The noni infusion makes for a wonderful lotion to keep on hand at all times!
Sweet Mango, Invigorating Lemon, and Luscious Guava Infusions
Fresh fruit is bountiful on the islands, and adds a brightening, toning element to the skin and hair. Delightfully scented infusions available from Pure Fiji use these tropical flavors to add energizing scents and beneficial antioxidants to rich lotions, creams, scrubs, and more.
Papaya
Harvested in the wild from our grounds or purchased from local growers at our Savusavu farmer's market, exotic tropical papaya (or "paw paw" in Fijian) is a treat to the body with a delightful scent! It's rich in antioxidants and lends a subtly sweet scent to the skin that pairs perfectly with the Fijian sunshine. Containing loads of Vitamin A, C, E, and K, as well as magnesium, potassium, and enzymes, both the pulp and the seeds of the papaya help to brighten skin complexion, hydrate dry and aging skin, fade skin spots, and treat wrinkles.
Bread Fruit
Found in home gardens and commercial orchards throughout Fiji, breadfruit is a green, bumpy fruit derived from a flowering tree related to figs and mulberries. It's a staple used in the South Pacific for many purposes – whether in the kitchen or in the spa! Bread fruit is rich in minerals and vitamins and offers a sweet tropical scent, and is known to boost collagen production, prevent skin inflammation, cure skin infections or treat skin diseases, and encourage new cell growth in the skin.
Farm Fresh Herbs + Plants
Our unique, custom body scrubs utilize herbs and plants cultivated on our very own organic farm. Carefully mixed with oils and natural salt or sugar, herbs and roots like mint and ginger blend perfectly to create moisturizing, brightening, and invigorating scrubs used in body therapies. Wild harvested banana leaves even make an appearance in our exotic banana leaf body wrap, while farm-fresh cucumber adds a refreshing and revitalizing note to our pedicures; aloe lends moisture and encourages skin regrowth in our body therapies, and cacao delivers ancient healing benefits to the skin in our anti-aging wrap. Local honey is also an excellent secret for mending and moisturizing skin and hair in our air balancing treatment.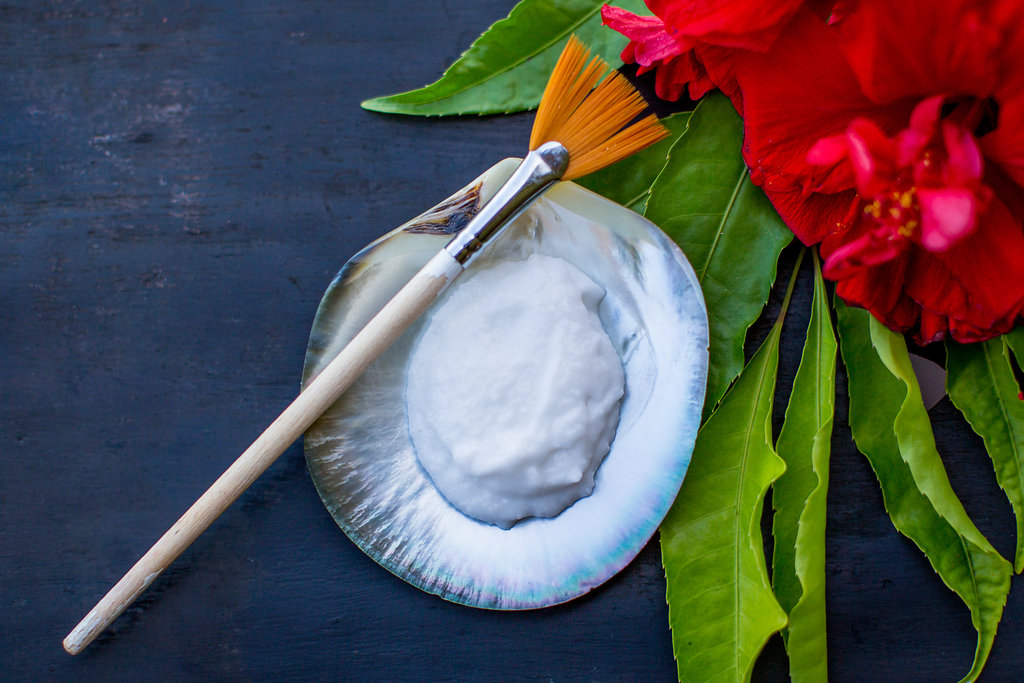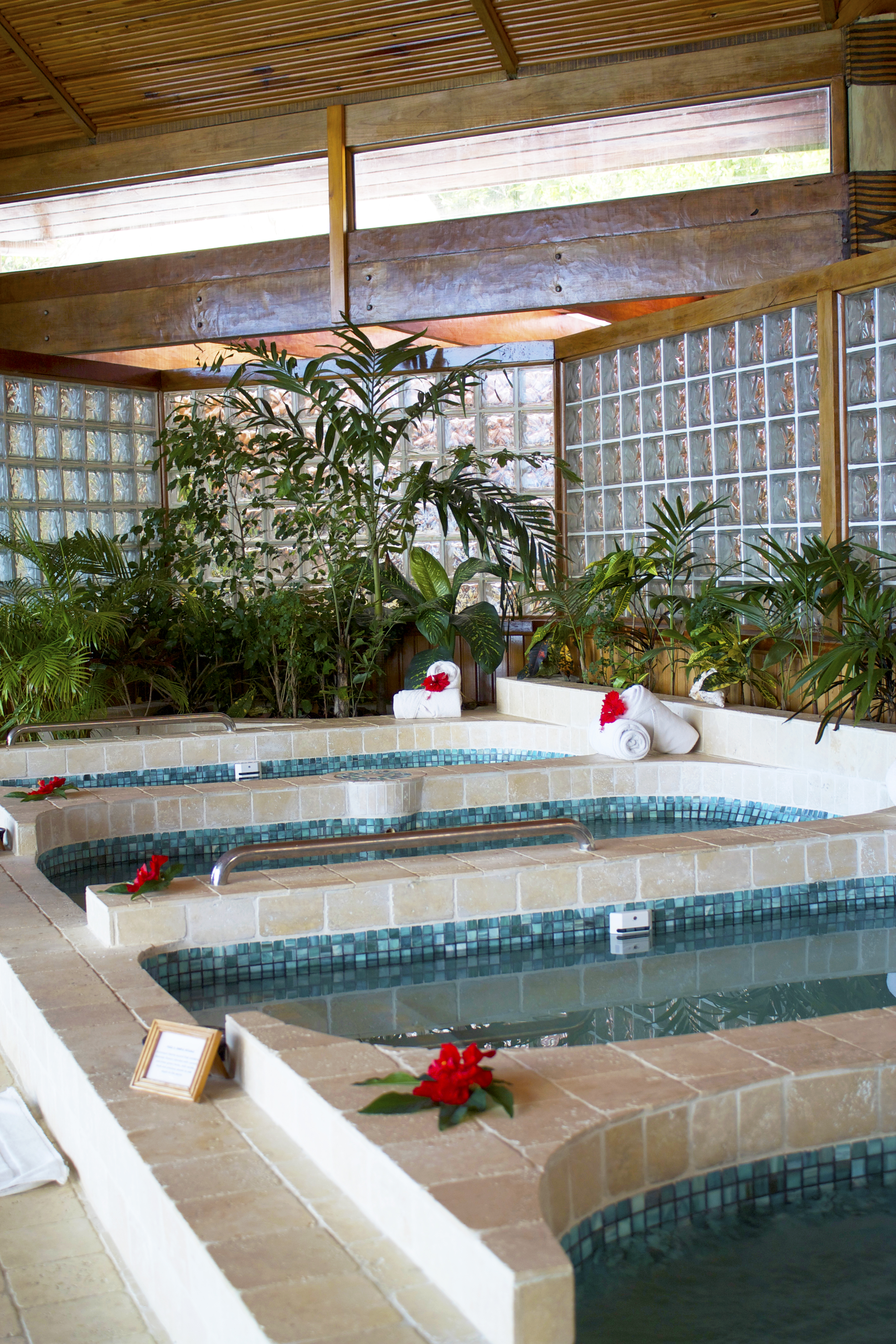 Botanical Essential Oils
Natural essential oils are a powerful ingredient used to relax the mind, soothe tension in the body, and lend beneficial properties to the skin. When added to locally produced virgin coconut oil, our unique blends offer a variety of benefits and wonderful aromas.
Lavender
Heralded for its power to eliminate nervous tension, boost circulation, and calm irritation, lavender has long been a powerful tonic. You'll find it helps to ease overstimulated mental activity, helping to deeply relax both the mind and body and allow for a state of pure bliss.
Frangipani
Frangipani, also known as plumeria, is a popular and aromatic flower found throughout Poylnesia. Often the blooms are yellow and white, but can also be a gorgeous red color, and give off an intoxicating tropical scent you'll notice around the islands. The fragrant essential oil is long-lasting, offering a wonderful perfume and deep-cleansing of the skin and hair.It's even been known to be an aphrodisiac!
Aromatic Bath Salts
Our spa hydrotherapy room features four heated aromatherapy pools featuring unique blends of bath salts for guests to choose from (or try each one!). Infused with Epson Salt, Solar Sea Salt, Vitamins, Minerals and Natural Extracts, our blends feature heavenly florals and botanicals like jasmine, honeysuckle, and eucalyptus combined with luscious vanilla or fruity pomegranate and coconut mango.