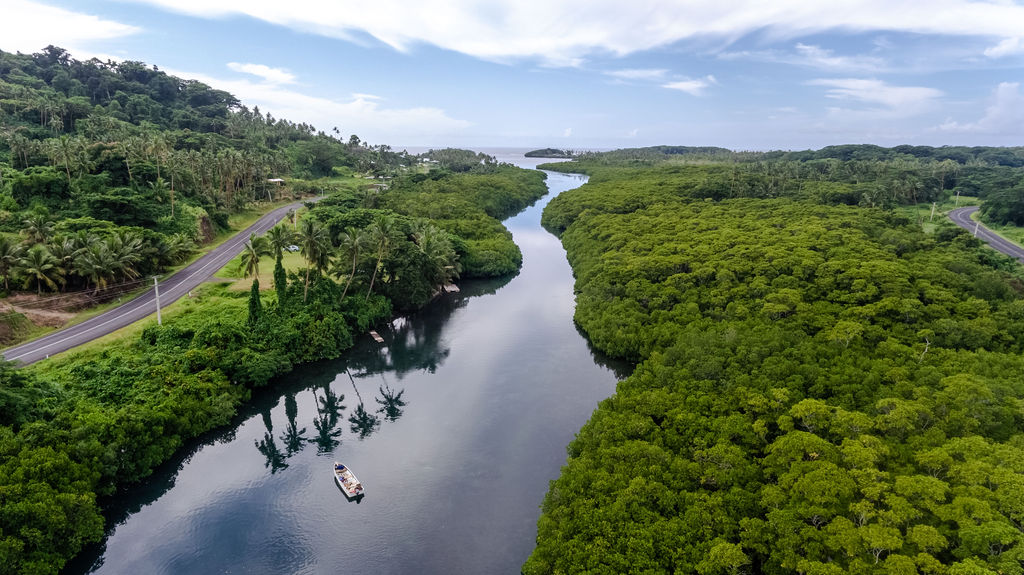 There's no better choice than the picturesque islands of the South Pacific for a paradise vacation, and there are endless things to do in Fiji during your trip. Situated just five hours from Australia and 11 hours from the United States, the Republic of Fiji is an archipelago of more than 330 gorgeous tropical islands with a distinct cultural history and endless opportunities for tropical enjoyment. Vanua Levu, Fiji's second largest island, has much to offer travelers who are looking for scenic relaxation or those looking for adventure, and Savusavu is well-known as a hidden tropical enclave for those looking for an escape far from the usual tourist crowds.
While you're planning your itinerary, consider these 10 top things to do in Fiji!
1. Savusavu Town
Savusavu is found on the beautiful south coast of Vanua Levu and has a full range of activities to offer. Known as the hidden paradise of Fiji, Savusavu is full of an assortment of shops and restaurants, along with a vibrant farmer's market filled with indigenous local produce. It's a great opportunity to meet and interact with the friendly locals, and support the local economy. Savusavu Bay is a picturesque scene of gorgeous blue water, a marina, and local beaches.
2. SALT RIVER DRIFT
No Fiji vacation would be complete without a unique Salt River Drift adventure. Opt for a relaxing, fun float through lush mangroves and rolling green hills. When the tide flows towards the lake, don a lifejacket, hop in the buoyant saltwater, and gently float along as our guides serve us ice-cold beverages from the boat. Salt River Drift is must-do adventure when visiting Fiji
3. Enjoy Scenic Nature
Vanua Levu is less tourist-oriented than the larger island of Viti Levu, leaving more of the beautiful, untouched Fijian paradise to discover. The inland areas of the island feature lush, rainforest-covered mountains and rolling hills with incredible 360 degree island views. Get a glimpse of these stunning areas on a remote waterfall trek, where you'll explore a variety of gushing hidden waterfalls like Vuadomo after driving through winding mountain roads and local villages. In contrast, the island's coastal areas offer stunning volcanic cliffs, palm tree-lined shores, and shallows reefs that make for perfect tidepool exploring at low tide. Discover the abundant exotic flora and fauna, from hibiscus, orchids, and birds of paradise to tropical crotons, towering coconut palms, and wild banana trees.
4. Dolphin Watching
Natewa Bay, located on the east coast of Vanua Levu, is frequently visited by several pods of playful South Pacific spinner and bottlenose dolphins. Witness them for yourself on a wild dolphin excursion, where you'll have the incredible opportunity to watch the dolphins up close in their natural habitat. Make sure to bring your camera to capture the playful dolphins jumping in the boat's wake!
5. Snorkeling and Scuba Diving
Vanua Levu is surrounded by beautiful coral reefs filled with a wide variety of exotic fish and gorgeous colors that are just waiting to be explored. Whether you prefer to snorkel or scuba dive, you will find the best of Fiji's underwater world in these reefs. Among the many reefs available for exploration is the popular Namena Marine Reserve. All that the Koro Sea has to offer will surely impress snorkelers and scuba divers of all levels of experience.
6. Vanua Levu Waterfalls
Vanua Levu is home to several spectacular waterfalls; among them is the hidden Vuadomo waterfall, where you're likely to be the only one there! After a short trek through the scenic rainforest, you'll find yourself cooling off in the crystal clear waters found at the foot of a spectacular display of nature.
7. Pearl Farm Tour
For a unique and interesting experience, plan a trip to J. Hunter Pearl Farm where you can discover the journey of beautiful Fiji-hued pearls, as they go from small minerals in the flesh of black-lipped oysters to elegant fine jewelry. During a pearl farm tour, you'll hear a brief overview of the pearl-culturing process before taking a guided tour aboard a glass-bottomed boat of Savusavu Bay where you can see first-hand the day to day operations of a Fijian pearl farm. You also have the opportunity to snorkel in the calm waters and witness the massive mollusks growing on anchored rope below the ocean surface – truly a unique sight!
8. Hot Springs
Savusavu is home to some of Fiji's best known hot springs, with the majority found along the town's shore and the larger pool located farther inland. You can experience the unique geothermal activity of the hot springs by taking a relaxing dip after a fun day in the sun. Plus, enjoy the ocean breeze and view as you simmer right on the beach.
9. Take Part in a Kava Drinking Ceremony
Kava is a traditional drink that plays a huge role in Fijian life. Made from the crushed root of the kava plant, a relative of the pepper plant, it's mixed with water in a traditional wooden tanoa bowl and served in a sacred ceremony meant to mark celebrations, create bonds, and celebrate community. Slightly mouth-numbing, the drink is a mild sedative that relaxes the drinker. Participating in a traditional kava drinking ceremony will be a once-in-a-lifetime experience you'll never forget!
10. Visit a Local Village
Fijians as a whole are known as the happiest people in the world, and their welcoming attitude and genuine hospitality truly reflect their laid-back approach to life. Visiting a local village offers a glimpse into traditional ways of life on the island, and are the perfect way to meet the friendly locals. The village children love to greet visitors, and it's the perfect place to pick up unique, hand-crafted souvenirs while supporting the local economy.