A honeymoon in Fiji is a dream come true. This picturesque tropical island is the ultimate place to celebrate your marriage and toast this exciting new chapter in your life. You and your new spouse can fill your honeymoon itinerary for your Fiji stay with exciting excursions, romantic meals, and relaxing activities. And when you stay at Namale Resort and Spa, you know you're in good hands. 
In addition to providing you with the most inviting stay in paradise, our team will help you look at everything we offer regarding the best Fiji honeymoon plans while you're here. From once-in-a-lifetime cultural experiences and oceanic adventures to private, intimate moments set to the ambiance of lit tiki torches, our resort promises you and your partner will be talking of your epic honeymoon for years to come. 
To help inspire your island adventures, we've outlined the best honeymoon itinerary with all the must-see attractions and activities. Our Fiji honeymoon itinerary perfectly blends island excursions, relaxation, cultural interaction, and intimate romantic moments. You and your partner are sure to have so much fun that you may find yourselves planning your first-anniversary trip back to the islands with us before your honeymoon is even over! 
DAY 1:
Make Yourself at Home in Paradise
Your honeymoon awaits! Touch ground at Savusavu airport and meet your transport for a short 10-minute drive to Namale. Upon arrival, you'll be greeted by our staff with a cold tropical juice and warm Fijian welcome. You'll be escorted to your accommodations after check in, where you can settle into your new Fijian home. Explore your private oasis, admiring the authentic Fijian decor and the tropical scenery surrounding your accommodation. 
Venture out to Main Bure restaurant for a three-course breakfast, or order room service as you rest after your journey. Fuel up on fresh tropical juice, healthy poached eggs, and locally caught fish cooked to perfection.
This is only day 1 of your honeymoon itinerary, so take this opportunity to rest and relax before the adventures ahead. Spend the afternoon soaking up the warm Fijian sun by the pool, exploring the expansive tropical gardens and grounds, or reading a book on our private beach.
Once the evening rolls around, join us for our nightly complimentary happy hour for your choice of cocktail and enjoy our varied cultural entertainment, from Polynesian dance shows and traditional kava drinking ceremonies to traditional meke performances.
Indulge in a dinner on one of the many open-air decks overlooking the sea at Main Bure restaurant, where you'll enjoy globally-inspired farm-to-table cuisine and nightly rotating menus. You'll soon find that dining at our resort is an experience in and of itself and one you'll look forward to at every meal!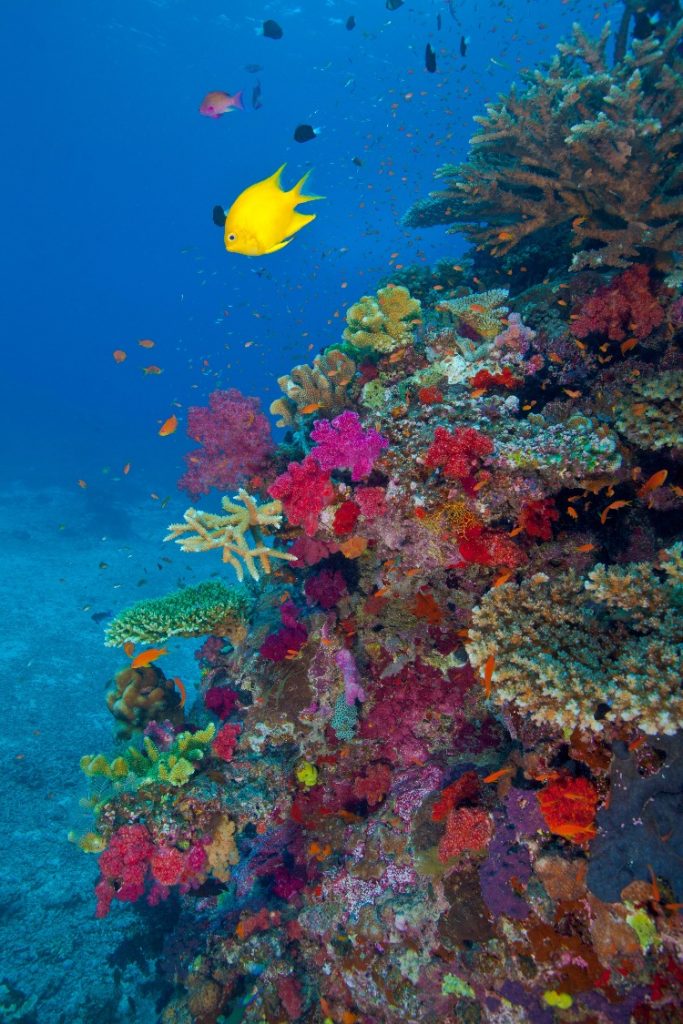 DAY 2: Time to Get Your Feet Wet
After a light, fresh breakfast, start your morning off with a relaxing couples' massage and visit to the spa hydrotherapy room at the Namale Spa. Be treated to incredible ocean views from the hot tub or one of four aromatherapy pools to reset your mind and body.
Next, take part in the daily activities schedule sent to your room nightly in the Coconut Telegraph. Enjoy a morning snorkeling tour, cruising out on the Namale Pearl to the best location for exploring Fiji's incredible underwater world – known globally as the Soft Coral Capital of the World!
Continue your day on the water with some afternoon watersports. Try stand up paddle boarding or kayaking for some fun in the sun. 
Make your way to Main Bure restaurant at your leisure for dinner. Grab an oceanview table and dine on New Zealand steak and freshly caught lobster set to soft candlelit ambiance. The two of you can catch the evening cultural show before retiring to your bure to take in the clear night sky or for some reading in your ultra-plush bed.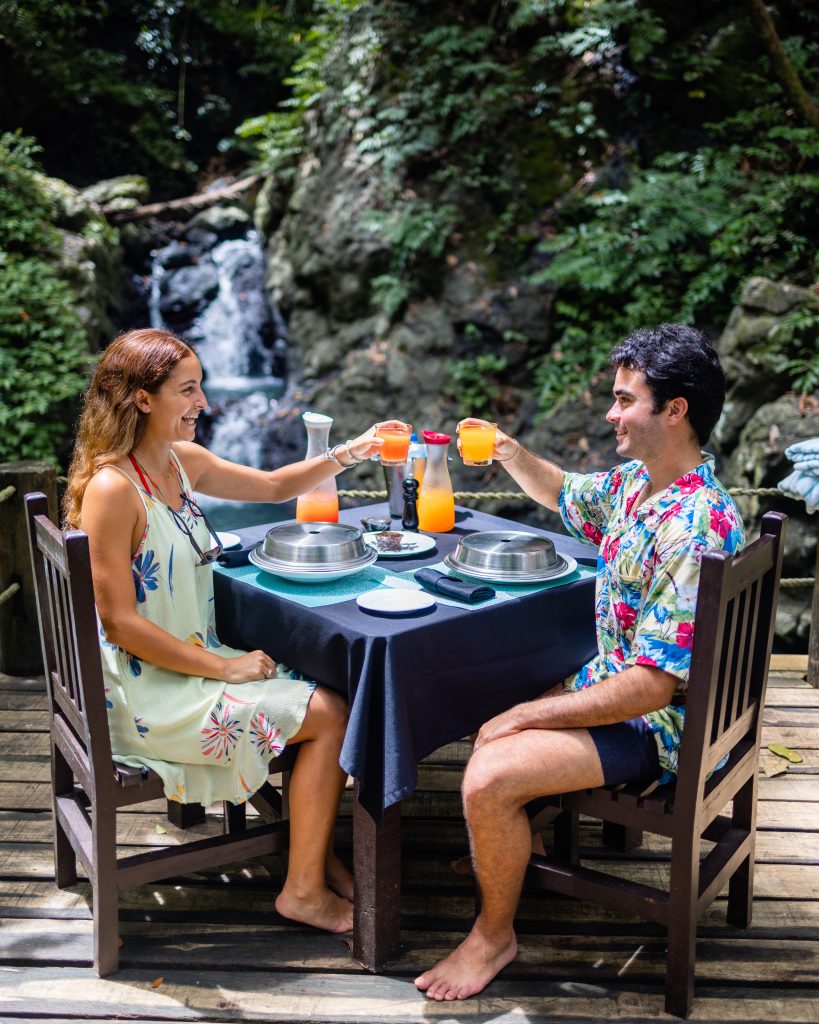 DAY 3: Get Out and About
When making honeymoon plans in Fiji, you'll discover select bookings are eligible for a private destination dining experience reservation. Let our concierge whisk you away to Namale's private waterfall, where your intimate lunch for two awaits you, complete with chilled champagne, a delectable meal, and flower-petal strewn table. Take your time indulging in the food and rainforest scenery, then take a post-meal dip!
After lunch, join a small group on an excursion to a sandbar in the middle of the Koro Sea! Take a short boat ride and find yourself castaway on soft white sand surrounded by crystal clear waters. Dive in for some amazing snorkeling, exploring the colorful coral reefs and perhaps sighting some marine life, like sea turtles or octopus. Cold beverages, snacks, and beach umbrellas greet you as you exit the water. You can even learn to crack a coconut from our activities staff!
After an activity-filled day, you deserve some relaxation at the spa. Experience our popular Sunset Bliss treatment. Start off on the oceanview balcony with a coconut foot soak while you sip champagne and enjoy the view. Then relax in a private room for a 75-minute couples massage of your choice. Your massage ends just before sunset, just in time for a bottle of champagne and light hors d'oeuvres while you witness Fiji's famous sunsets. Does it get much better than this? We think not!
To continue the night in private relaxation, let our team set up an in-bure dinner for you and your sweetheart when you order off the in-room dining menu.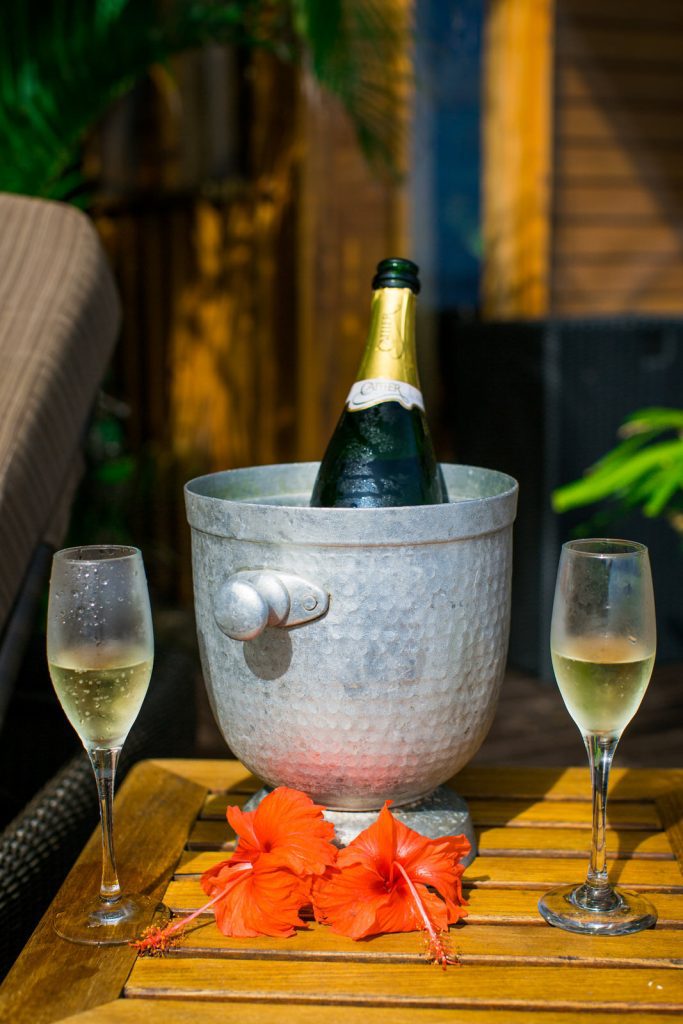 DAY 4: Immerse Yourself in Fijian Culture
A champagne breakfast in bed greets you this morning. Take your coffee out on your private deck and soak in the ocean air and rising sun.
Day 4 of your Fiji honeymoon itinerary involves immersing yourselves in Fijian culture. Join today's guided tour of a local village, where you can see traditional Fijian life first hand. Experience the Fijian custom of offering kava root to the village chief as a thank you for allowing entry to the village. Then explore the island homes and community spaces while meeting the smiling children and families and learning about everyday life there. You'll find the notable Fijian hospitality and "bula spirit" is abundant here and everywhere on the islands. Moreover, this is the perfect opportunity to practice some Fijian words and phrases you've picked up along the way! 
Return to Namale for a poolside lunch. Enjoy a bright salad crafted with produce from Namale's organic farms paired with grilled sesame prawns and your cocktail of choice. Finish with a delectable cheese plate and house-made pineapple sorbet.
This afternoon grab your choice of stand up paddle board (SUP) or sea kayak and get out on the water to explore the stunning coastlines—there's no better way to experience the tropical landscape!
Tonight's dinner features Indian-inspired dishes to celebrate Fiji's Indo-Fijian culture, or indulge in fresh macadamia-crusted Walu or grilled lamb. For a bit of sweetness, order the coconut crepes or pineapple house made sorbet.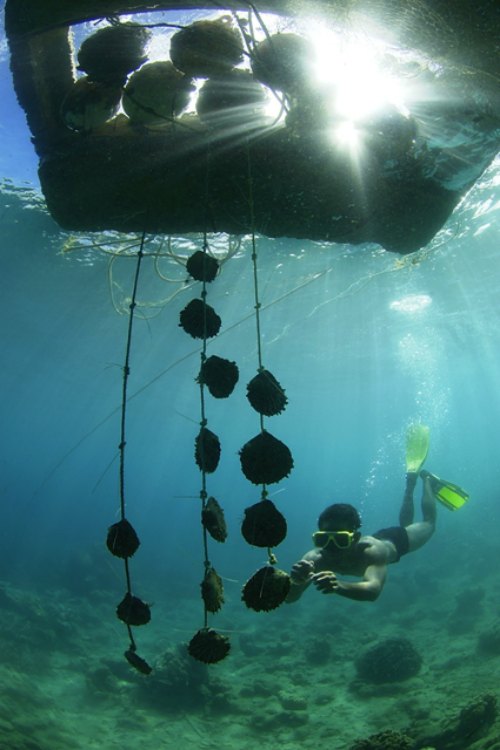 DAY 5: Discover Fiji's Famous Pearls
After breakfast at Main Bure's breezy main dining room or on your private deck overlooking the sea, venture out to a highlight of Vanua Levu: the J. Hunter Pearl Farm. Here you'll take a tour to learn about the unique cultivation process of the world's rarest South Pacific pearls, then get out on the water for a snorkeling tour of the underwater farm. Witness how the large pearl oysters grow on ropes suspended below the water. Afterward, visit the showroom to see handmade pearl jewelry (and take a very special souvenir home for yourself!).
Return to Namale and enjoy lunch on the beach below the towering coconut palms.
Spend the afternoon at your leisure, and end the day with a cultural show at Main Bure and an island-inspired cocktail or glass of wine.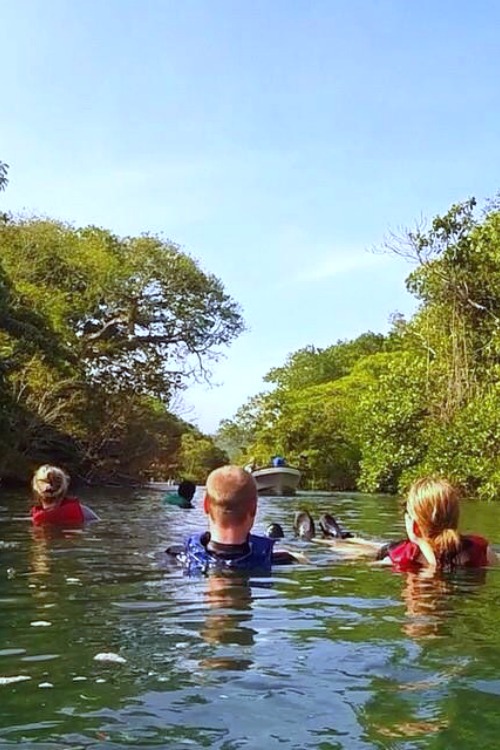 DAY 6: Indulge in the Island's Natural Beauty
After breakfast in bed, join our activities team for the exciting Salt River Drift. Don a bathing suit and lifejacket and jump into the island's unique ocean-fed river, which changes direction with the tides. You and your honey will love floating along the mangroves in this lazy river-style activity while our staff follows along in the boat serving up cold beverages. End at the Salt Lake, a beautiful saltwater lake surrounded by lush, virgin rainforest.
This afternoon indulge further at the spa, this time luxuriating in a 2 hour balancing body treatment. The YameYame Fire Balancing therapy treats you to a cooling aloe body mask, full body banana leaf wrap, foot reflexology, and wave-like massage. Or, try a Cagi Air Balancing treatment for an Abhyanga style massage and hot stone therapy followed by a warm mask of local honey and herbal steam treatment. 
A private dinner for two is next on your honeymoon itinerary. Experience the most romantic and memorable dinner at a truly unique and stunning location. Walk down to the beach, where your eyes will be feasted to a tucked-away natural sea cave outfitted with hundreds of twinkling candles. A flower-petal strewn walkway lit by lanterns lead you to your table, where a gourmet meal and bottle of wine await you. Indulge in the candlelit ambiance and sound of the crashing ocean waves, and stargaze on the beach after your meal. Now, this is the life you deserve!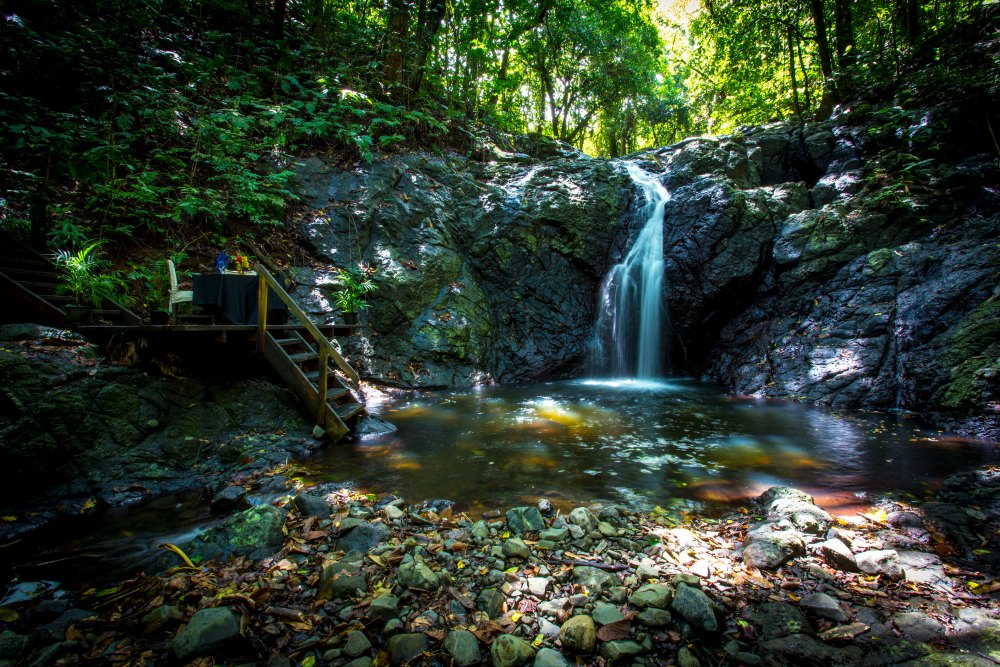 DAY 7: Go Chase Waterfalls
This morning's private breakfast awaits you on Veidomoni Deck, a split-level deck tucked away into the volcanic sea cliffs. Dine at your table on the upper deck and look out over the tidepools and the ocean blowhole periodically spouting off in a brilliant display. After you've finished, move to the lower deck, where a romantic heart-shaped hot tub offers a relaxing post-meal dip with an incredible view.
Some of the best honeymoon Fiji plans involve waterfalls, and today, you and your partner are in for a treat. Day 7's adventure takes you Namale's very own hidden waterfall. Together, take the trek down the wooden staircase to this magical oasis where you and your honey can take a private dip at the base of the falls. Feel the gentle massage of the refreshing water on your backs, as you relish the rainforest's enchanting scenery. It doesn't get more relaxing than this! 
After you return from your romantic excursion at the falls, join us at sunset for a cocktail cruise on the Namale Pearl. Take in stunning views of Savusavu Bay and the island coastlines while enjoying the ocean breeze. Let the live acoustic music soothe you as you sip champagne and enjoy gourmet hors d'oeuvres. The two of you will experience the stunning pastel hues of the sky from the water on this memorable and romantic cruise.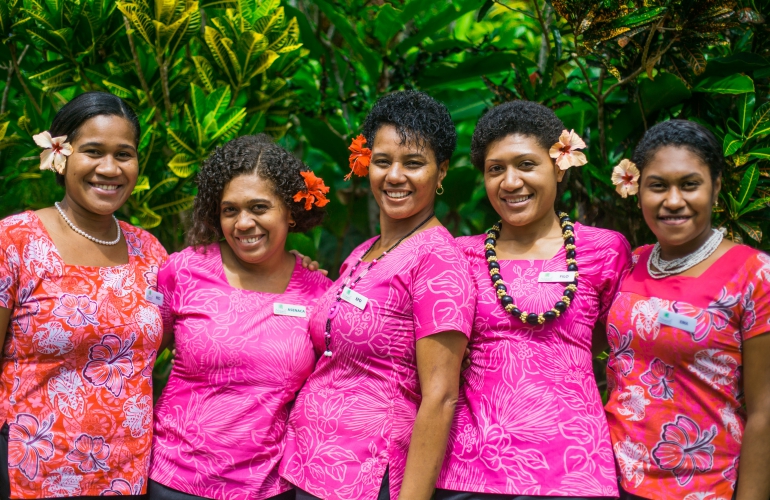 DAY 8: Say "See You Later"
As you depart, leave us a special message that will become part of the fabric of Namale. Decorate or sign a wet concrete stepping stone, which will be placed among the gardens and walkways of Namale, forever memorializing your trip to our slice of paradise. Remember, this isn't goodbye, but just "sota tale" (see you later), as you and your partner are always invited to return home to see your Namale "vuvale" (family) again soon!
If these honeymoon plans in Fiji sound appealing to you and your future husband or wife, then it's time to set them in motion. These experiences can be all yours when you plan your honeymoon with us at Namale Resort and Spa. Let's start planning your romantic getaway in paradise today! Contact us to learn more and check out our special offers and all-inclusive honeymoon packages.