Fiji is the epitome of a romantic destination. This collection of tropical islands boasts a private, serene oasis where you and your partner can connect on a couples getaway, surrounded by picturesque scenery, from lush jungles to ocean vistas. Whether you're a couple that craves rest and relaxation or adventure and excitement, Fiji promises to provide the ultimate place to focus on your love and relish your romantic vacation. This makes Fiji one of the best proposal places.
But if you want to take the romance up a notch, why not propose while you're here?
After all, there's nothing more magical than a Fiji proposal. No matter where you choose to drop down to one knee, Fiji's beautiful landscape provides the most epic background to any proposal. Vacation proposals, especially in Fiji, have become more popular than ever, as couples are already celebrating their love—it only makes sense to add a little more spark to your romantic getaway!
Because Fiji is easily one of the best places to propose, we've provided a helpful how-to guide on Fiji proposals. Find tips on how to propose on vacation and some of the best proposal places in Fiji.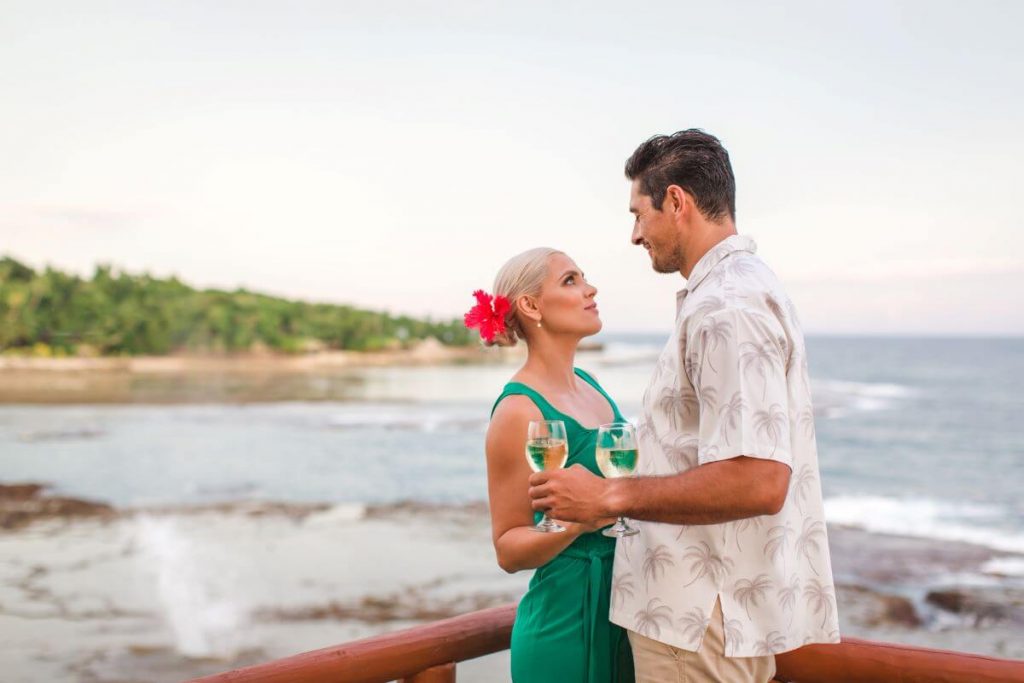 Tips for Proposing on Vacation
Ready to pop the big question while vacationing in Fiji? Follow our advice to ensure everything runs smoothly up to the special moment.
1. Keep the ring in a safe place
Whatever you do, hold onto that ring! Keep the ring secure at all times, whether on you or in a safe place in your carry-on luggage. Don't place it in your checked luggage in case your bags get lost or delayed during the trip.
2. Choose the location
It's all about location! Do you want to propose in a place surrounded by others or a more secluded spot? And are you imagining an indoor setting or an outdoor affair? For inspiration, we offer a list of the best places to propose in Fiji below!
3. Select the best time to propose
Timing is crucial. First, decide on a leisurely time when you're not in any rush. Next, think about the time of day. Are you thinking of a sunrise, early morning, midday, or sunset proposal? Once you decide where and when you can plan the logistics of getting there on time.
4. Consider hiring a photographer
When it comes to the top tips for proposing, many recommend hiring a photographer to capture the special moment. Photos of your proposal and the intimate moments afterward are wonderful keepsakes you can share with your loved ones upon your return home.
5. Plan your speech
If you think you might get tongue-tied, think about writing a speech beforehand. Even if you get nervous and forget a few lines, you'll have something to work off of instead of just riffing! As long as you speak from the heart, you'll be golden.
6. Propose early on in the vacation
Proposing a few days into your vacation will give you plenty of time to celebrate your engagement, whether that means a day at the spa or a fancy dinner for two. Your vacation is a private time reserved for the two of you to enjoy your new engagement bliss before going home to celebrate with friends and family.
Best Places to Propose at Namale Resort & Spa
If you already have your romantic getaway booked at Namale Resort & Spa, you're halfway there! Now, all you need to do is find the perfect place to pop the question. Below are a few of our favorite spots for getting engaged at our idyllic resort.
A private escape to the waterfall
For a whimsical setting in nature, propose at our private, hidden waterfall, just a short trek from our resort. Mother Nature delights with the most stunning background as the rushing falls offer the soundtrack to your proposal. To make it extra special, arrange for a private breakfast or lunch at the base of the falls, and then take a dip in the water to celebrate your future together!
Our heart-warming hot tub
Nothing says a good proposal spot quite like our heart-shaped hot tub! Bring your sweetheart here with the promise of a relaxing dip before surprising her with your important question. Once you've sealed the deal, enjoy a warm soak together with panoramic ocean views—talk about romantic!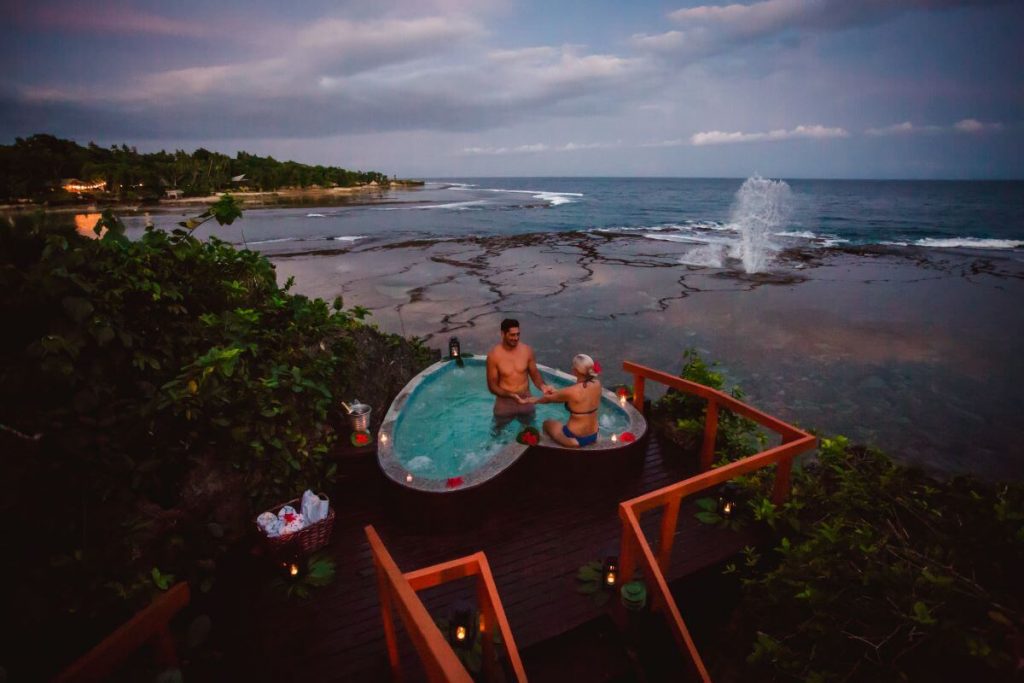 A meal with a view
If you're wondering how to propose on vacation, why not ask the question over a romantic dinner for two? We serve up some of the finest, authentic Fijian cuisine at our resort, and the only thing that rivals it is the fabulous views overlooking the ocean. Revel in an unforgettable dining experience before asking your partner for their hand in marriage
Our private perch at sunset
The sunsets in Fiji are second to none, making the early evening one of the best times to propose on this island. For a front-row view of the show, lead your honey to our private oceanfront deck, where you can get down on one knee as the sky lights up like cotton candy over the water.
A secluded sandbar
Want a proposal wrapped up in adventure? Then join us on a boat tour to a deserted sandbar in the middle of the ocean! Spend the afternoon snorkeling in the turquoise waters and basking on the white-sand beach before surprising your sweetheart with the best question ever. Trust us; this island adventure is one you'll both treasure forever!
When it comes to our island resort, there's no shortage of romantic ways and places to propose to your partner. Now that you know the best ways to propose on vacation and have some ideas about where you might want to pop the question, it's time to book your adult-only getaway with us. Make your reservations today, and then you can start planning the most epic Fiji proposal!