TripAdvisor recently announced its annual Traveler's Choice Awards, placing Namale Resort and Spa among the top 1% of hotels worldwide. The awards are presented to the best hotels and resorts in Fiji and across the world based on positive reviews from the TripAdvisor traveler community, and are dedicated to highlighting the ultimate in service, quality, and value across the globe.
For the fourth year in a row, we are honored to receive this distinction based on the reviews and personal stories of our guests. Namale has been honored across five key categories in this year's awards, including: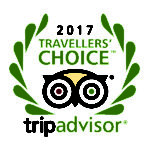 Top 10 Luxury Hotels in Fiji

Top 25 Luxury Hotels in the South Pacific

Top 15 Small Hotels in Fiji

Top 25 Hotels for Romance in Fiji

Top 25 Hotels for Best Service in Fiji
We are ever grateful to our guests for sharing their experiences with the travel community, and honored to provide exceptional and authentic Fijian experiences. We thank our dedicated staff for enhancing each guest's stay with genuine, attentive, and superior service.
WHAT OUR GUESTS ARE SAYING
Here are just a few things our recent guests had to say. To read more reviews, see our testimonials page or visit Namale on TripAdvisor.
"Have you stayed at a resort where all of the staff addressed you and your SO by name? What about a resort where you met new friends and shared drinks and dinner with them? Experiences like that is where Namale stands out as being amazing. We have stayed at other all inclusives and Namale really shines as being more of a "close-knit" experience." -Jake U.
"We recently spent a week at Namale and words cannot describe how amazing it is! I highly recommend experiencing a waterfall lunch and a cave dinner, both of which made a very special day even more special. The spa is incredible, with the hydrotherapy room free for use. I was also very pleasantly surprised to see which drinks were included. If you want the whole package, choose Namale." – Mardi R.
FIVE WAYS NAMALE IS SETTING THE BAR FOR EXCELLENCE
Every Trip is Fully Customizable
At Namale, your every request is met, every wish anticipated, and every expectation exceeded. Our 4-to-1 staff to guest ratio allows us to deliver fully customizable experiences to each and every guest, whether they're on a honeymoon, romantic getaway, or tropical adventure. This includes organizing surprise private meals at unique outdoor locations, arranging for private couples' massages in your private quarters, or creating a custom menu just for you throughout your stay.
We're "Ultra" All-Inclusive
The typical all inclusive experience is elevated to an art form at Namale. Enjoy world-class fine dining focused on farm-to-table fare and fresh island seafood, plus unlimited champagne, wine, beer, and cocktails at our nightly complimentary happy hours. Plus, create lasting memories with private dining experiences, included in your stay. Experience Fijian culture firsthand with nightly cultural entertainment, from traditional Fijian meke performances to Kava drinking ceremonies. Enjoy endless activities including snorkeling and indoor bowling!
Indulge in Seclusion and Exclusivity
Our location in Savusavu, on the island of Vanua Levu, lets you experience the virtually untouched natural splendor of the Fiji islands and escape to a hidden paradise virtually all your own. There's a reason Namale is popular among celebrities and high-end travelers – our boutique design and adults-only atmosphere allows for a private, relaxing, and indulgent trip of a lifetime.
Our Award-Winning Spa
The Namale Spa Sanctuary has been voted the #1 spa in Fiji by Luxury Spa Finder Magazine. Spanning over 10,000 sq. ft. and nestled into the volcanic cliffs overlooking the Koro Sea, the spa is a place of serene refuge for travelers looking to add wellness and rejuvenation to their stay. Taking inspiration from the tropical landscape and natural elements of the island, treatments include exotic banana leaf wraps, body therapies using natural scrubs of local coconut oil, farm-cultivated herbs, and native plants, and couples' massages set to the ambient sounds of the waves.
Our Authentic Fijian Design and Cultural Experiences

Namale is designed to blend seamlessly into the surrounding landscape, featuring authentic Fijian architecture in our bures (meaning "home" in Fijian) such as thatched roofs and native timber, elevated to elegant luxury by modern amenities. Wake each morning in your private accommodations with a 360 degree experience of the Fiji islands. You'll experience the rich local culture on a tour of a local village, interact with locals at the town's farmer's market, or take in thrilling dance shows during our nightly entertainment performed by local Fijians. Create lasting memories by focusing on the authentic side of Fiji during your travels.
To see the press release, read here.