We are proud to announce that Namale Resort and Spa has been recognized this week as a winner and leading luxury Fiji resort in the 2017 World Luxury Hotel Awards.
Aimed at defining the world's best luxury resorts across over 100 different categories, the World Luxury Hotel Awards are the pinnacle of achievement in the luxury hotel industry as voted by guests, travelers, and industry players alike. Namale Resort was recognized in previous years as a Top Luxury Romance Hotel.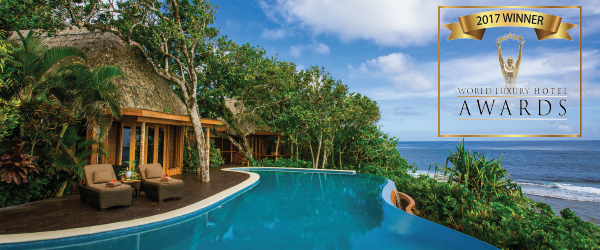 "At Namale, we are committed to delivering the highest standard of bespoke service, and our friendly staff and personalized service is what guests often find truly make their experience high quality," says General Manager Bill Keefe.
"Luxury travelers today are seeking a more intimate, customized experience in addition to traditional five star amenities, and as a boutique property, we're able to craft that unique experience for every guest. We're honored to be recognized for this effort in the World Luxury Hotel Awards."
Namale sets the standard as a luxury Fiji resort through its fully customizable all inclusive packages, offering guests the opportunity to craft an itinerary of their own design and even alter their menus to their preferred tastes. For example, guests can design an itinerary that balances relaxation and wellness with adventure and culture by booking spa treatments following complimentary snorkeling day trips and enjoying nightly cultural entertainment before a private destination meal at a unique outdoor location.
Among the this award, Namale has also been recognized as a Top Resort in Australia and the South Pacific in Conde Nast Traveler's 2017 Readers' Choice Awards; a Top Honeymoon Resort in Fiji in BRIDES Magazine's 2016 Best Honeymoons Awards; a TripAdvisor Travelers' Choice Winner four years running (2014-2017); and as one of Oprah's Favorite Things in 2012.